DISCOVER THE STARTUPS SELECTED FOR THE FALL 2023 PRE-INCUBATION PROGRAM
· Article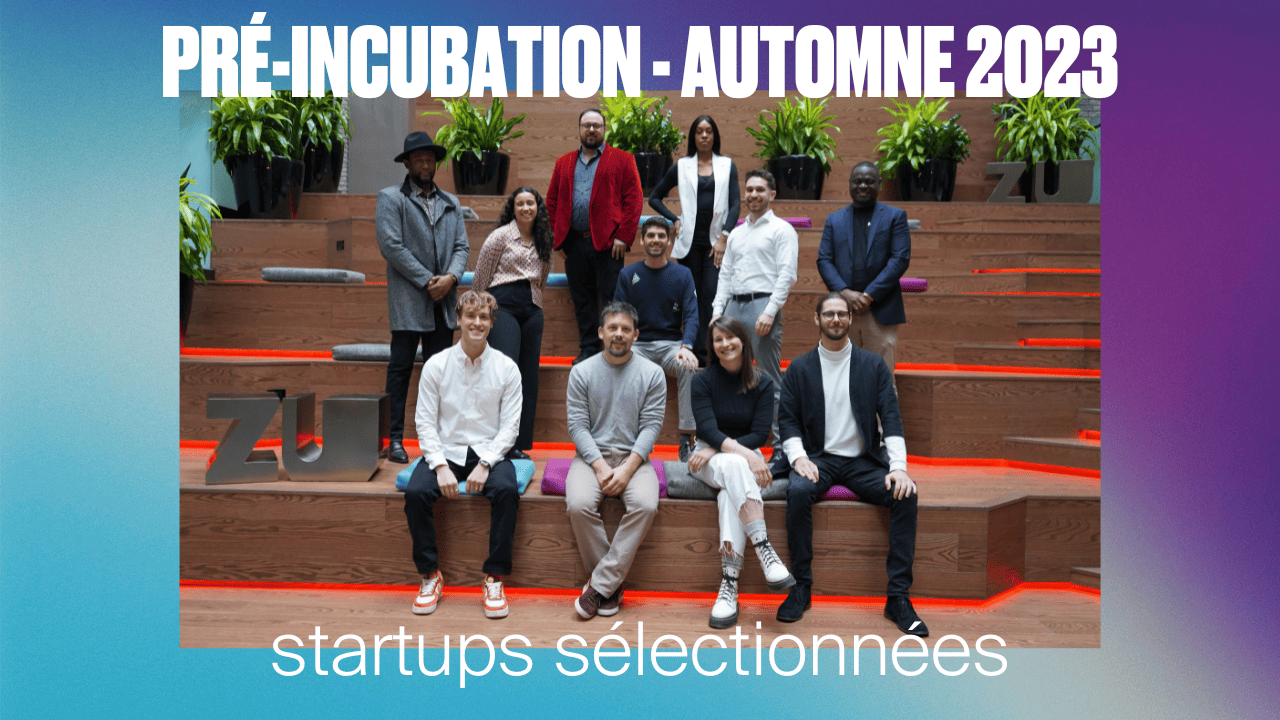 We are delighted to present our latest cohort of startups selected for Zú's Fall 2023 pre-incubation program!
The pre-incubation program, based on Design Thinking and Lean Startup methods, takes place over 10 weeks, during which entrepreneurs participate in a series of workshops, events and one-on-one meetings to refine their business model and technological product.
During this period, our entrepreneurs will deepen their knowledge of fundamental concepts essential to success in the business world, such as managing intellectual property, raising financing, market analysis, optimizing the customer journey and mastering taxation. They will also hone their skills in pitching, business development and marketing strategies.
Finally, as members of the Zú family, they will have access to our vast local and international network, offering them unique business opportunities.
And who knows, after completing the pre-incubation program, they could well be the next to join the incubation program!
Without further ado, discover these innovative startups:
Arthur Majordome

 

Arthur Majordome is a platform that enhances the tourist experience by showcasing the city's charms, and optimizes the experience of hotel guests. This technological tool provides personalized support to subscribers, helping to counter the shortage of hotel concierge services.

Bloomix

 

Bloomix is an interactive platform for scientific learning and professional discovery. It awakens users' passion for science and technology, while offering them the opportunity to build their career path.

Kampus

 

Kampus Media creates a digital warehouse of voices modeled using artificial intelligence, aimed at simplifying access to high-quality audio content, particularly for audio books and dubbing.

Mokap

 

Mokap is a digital platform which, using artificial intelligence, facilitates the remote creation of garments by connecting fashion professionals with potential customers.

Nexperience

 

Nexperience offers a mobile application that delivers real-time information to enhance the audience experience and maximize engagement at a music concert or other event.

Splitom

 

Splitom markets energy-efficient servers whose heat is recycled to heat building water, thanks to the Splitbox ©. This solution reduces the carbon footprint of digital technology, while cutting heating costs.

Transversal

 

TRANSVERSAL interconnects people, art and business through technology. Through immersive experiences and interactive installations, the studio develops innovative connected objects, including an interactive light stick, capable of translating a multitude of data into images, sound and light.