MISSION, VALUES AND HISTORY
This is where we cultivate, rethink, redefine entertainment. 
Zú is an incubator initiated by Guy Laliberté in 2018. It supports and propels creative entrepreneurs who use technology to develop products and content that revolutionize the cultural, creative, and entertainment industries by generating innovative projects and world-class intellectual property.  
 Zú offers support programs for startups, open innovation services for SMEs and large corporations, financing expertise including privileged access to the venture capital fund Triptyq Capital and a local and international network of over 100 renowned coaches.  
Zú was trained by the MIT Venture Mentoring Service (MIT VMS). Mentoring in our incubator/accelerator programs is based on the MIT VMS methodology, which establishes a rigorous support framework for Team Mentoring that is free of conflict of interest, impartial and confidential within MIT, one of the most prestigious institutions in the world in terms of entrepreneurship and technological innovation.
It also offers a unique creative hub in downtown Montreal that brings together state-of-the-art tools and studios, business hosting opportunities and showcase spaces for research and experimentation with the public. 
Zú is a non-profit organization that rallies a community whose ambition is to create wealth in Quebec by promoting our creativity around the world. 
"QUEBEC'S CREATIVITY IS A NATURAL RESOURCE. IT'S ONE OF OUR STRENGTHS AND DEFINING FEATURES. THIS TALENT IS OUR TREASURE, OUR WEALTH."
Our walls tell a story
Welcome to the Complexe-de-La-Maison-Alcan, a provincial heritage site in Montreal where Quebec pride has been on display for decades.
Located in the heart of the Golden Square Mile, in the block formed by Sherbrooke, Stanley, Maisonneuve and Drummond streets, the complex was initially home to a very different type of business. In the 1980s, it served as the world headquarters for Alcan, where they used hydroelectricity, a form of energy specific to Quebec, to transform minerals—a natural resource in abundance here—into a commercial form of aluminum that was sold around the world. The manufacturing that took place on site ended up generating collective wealth for all of Quebec society.
Today, in the era of the knowledge economy, the raw material that we cultivate here is creativity.
This building is now home to Zú. This is where technology, avant-garde facilities and an innovative environment equip, support and drive our creators, artists and entrepreneurs in the entertainment sector. As a result, Zú is carrying on the vocation of this space which produced such riches for Montreal, Quebec and Canada as a whole.
---
The birth of a movement
Quebec stands out on the world stage in large part because of its creativity. It is one of our natural resources. It's our collective strength and a defining feature. A talent worth treasuring.
Guy Laliberté initiated Zú, a non-profit organization that seeks to give Quebecers ownership of their ideas, with that in mind.
Zú has given rise to a community devoted to cultivating ideas, sparking curiosity and injecting that little dose of ingeniousness needed to help innovative projects take shape. Projects that will tell our stories, promote our culture and enable us to reap the fruits of a singular kind of wealth: intellectual property.
This intellectual property will belong to its creators and will be registered in Canada.
A venue buzzing with ideas and business projects, Zú—Irish for "zoo"—is a nod to the project initiator. Guy Laliberté started by creating a circus with no animals. And now he's built a zoo with no monkeys or elephants in sight, but where learning and entertainment abound. Here, creativity and innovation are set free. No animals. No cages. Only a wild desire to reinvent the world.
---
Location
The Golden Square Mile
Located at the base of Mont-Royal, the Complexe-de-La-Maison-Alcan is in the heart of the Golden Square Mile and the Museum District between two world-class universities. The area is home to a number of major corporations with tourist attractions in close proximity.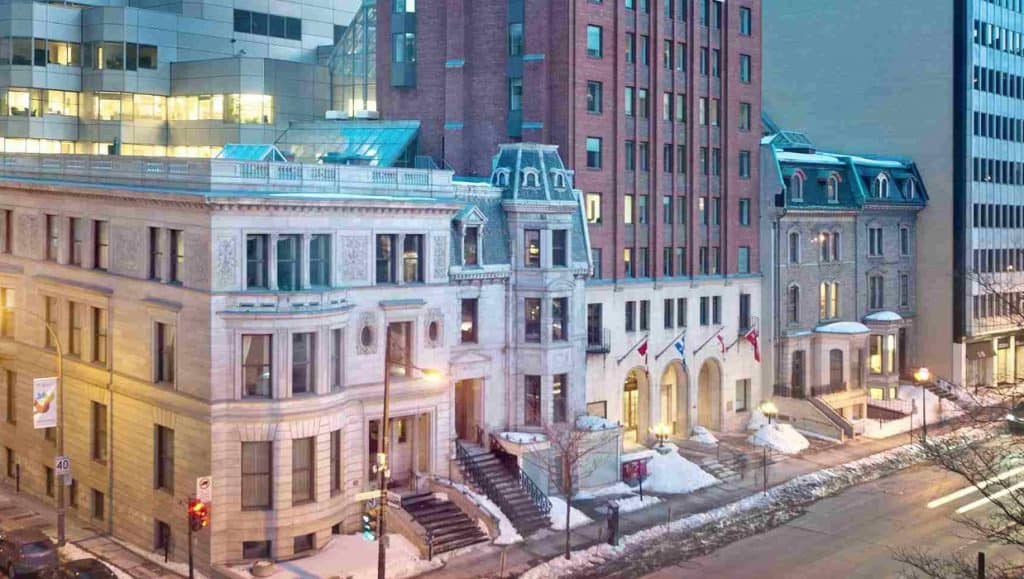 The Complexe-De-La-Maison-Alcan
A cluster of historic buildings, some of which date back to 1872, the Complexe-de-La-Maison-Alcan is comprised of several heritage properties. This spectacular venue solidifies Montreal's position as a hub of innovation and serves as a cultural and creative anchor in the heart of the city.
Revitalizing the area and establishing roots in the community
As of September 2019, Zú's first creators and entrepreneurs will take up residence in the Holland House and the Berkeley. The former was a prestigious home built in 1872 and the latter was an apartment building designed in 1928 and transformed into a hotel in 1930.
The Complexe-de-La-Maison-Alcan was classified as a heritage site in 2017. It has witnessed over 100 years of history unfolding within its walls. We are all the guardians of that history now. Let's cherish it together.