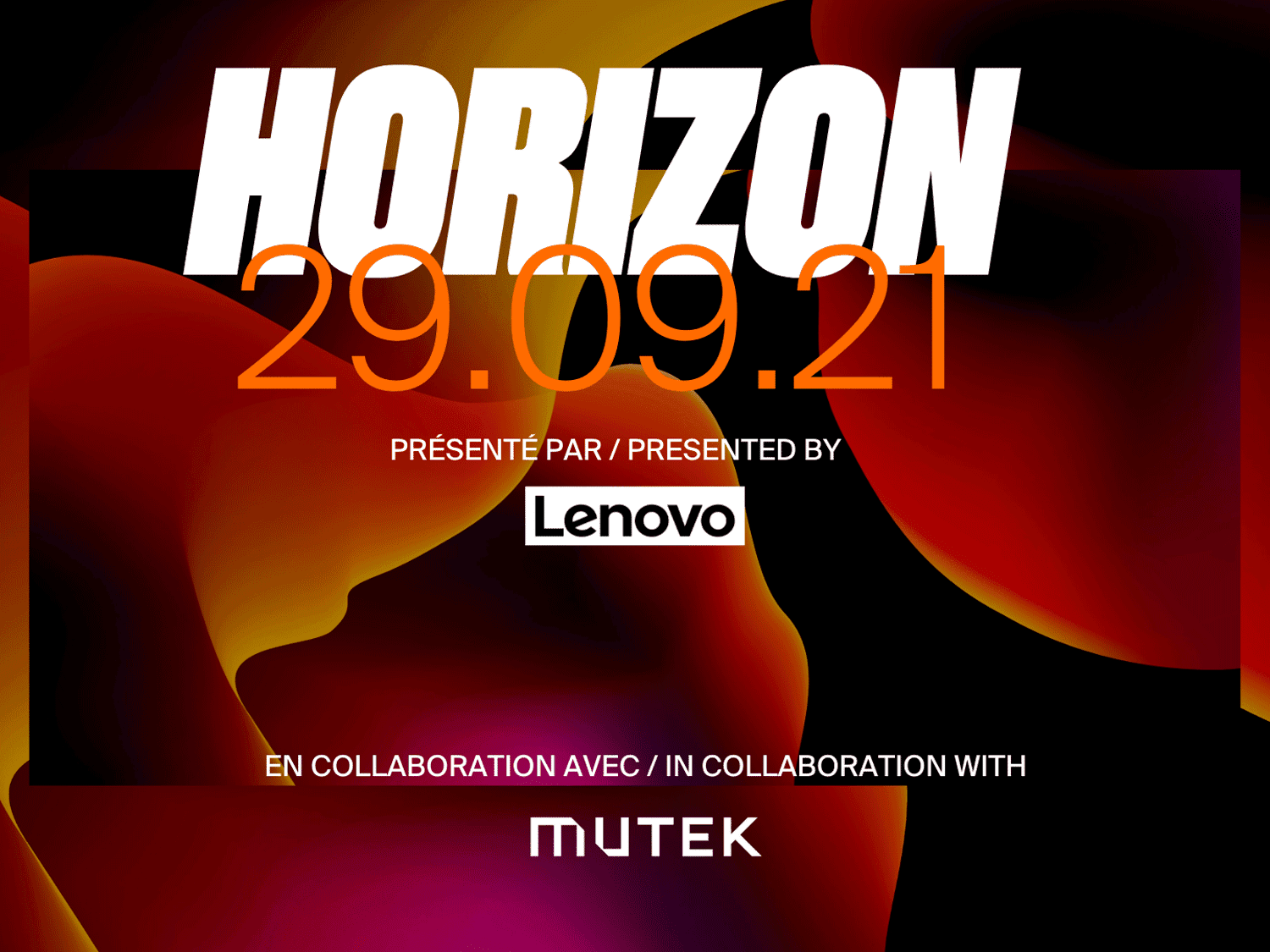 Creative shift – Scott Eaton & Cadie Desbiens Desmeules en collaboration avec Mutek
HORIZON Présente par / Presented by Lenovo
---
La technologie et l'art, guidés par la créativité et la collaboration, transcendent les courants éphémères et entraînent un changement radical de l'expression artistique, mais également de la production et de la consommation. En compagnie d'éminents artistes et technologues créatifs Scott Eaton et Cadie Desbiens Desmeules, dont le travail influent fait appel à l'intelligence artificielle et l'apprentissage automatique, nous examinerons la manière dont la technologie peut influencer la création personnelle, mais aussi comment elle peut transformer la façon dont nous interagissons avec l'art en tant que société.
Scott Eaton
Scott Eaton est un artiste, un éducateur et un technologue créatif qui vit à Londres, au Royaume-Uni. Son travail explore les limites de la représentation figurative en associant les techniques artistiques traditionnelles aux outils numériques contemporains. L'art et les créations de Scott ont été présentés dans les pages de GQ, Vogue, Vanity Fair et le New York Times. Parmi ses récentes collaborations, on compte notamment une collaboration avec l'artiste légendaire Jeff Koons, Nike, la BBC et la société française de cristal Lalique pour Elton John. La liste des clients de Scott dans le secteur du divertissement comprend Pixar, Disney, Sony, Warner Bros, Electronic Arts, Ubisoft et bien d'autres. 
Cadie Desbiens-Desmeules
Cadie Desbiens-Desmeules est une artiste canadienne installée à Lisbonne, au Portugal, qui travaille entre l'art génératif et celui de la performance. À travers son travail, sa mission est de susciter des réflexions et des discussions internes sur la façon dont nous communiquons et que nous engageons avec les nouvelles technologies. Ses œuvres vivent principalement en ligne ou sous forme d'installations, couvrant de multiples surfaces ou des environnements immersifs. En tant que directrice de la création et artiste visuelle chez Push 1 Stop, elle a collaboré avec les plus gros talents et les meilleures agences de l'industrie, ce qui l'a amenée à travailler aux côtés de grands noms comme Beyonce, Jay-Z, Billie Eilish, Bruno Mars et bien d'autres. En outre, son art a été présenté dans le monde entier, notamment dans des festivals d'art numérique et des galeries d'art tels que TodaysArt (Pays-Bas), le Symposium international d'art électronique (ISEA) et Somerset House (Royaume-Uni).  Aux côtés d'autres artistes, conférenciers et personnalités publiques, Desbiens-Desmeules a également été sélectionnée par We Are Europe (WAE) comme l'une des 64 personnalités européennes les plus inspirantes.
---
Technology and art, when guided by creativity and collaboration, transcend ephemeral trends and contribute to a profound shift in our artistic expression, production, and consumption. Picking the brain of prominent artists and creative technologists Scott Eaton and Cadie Desbiens Desmeules, whose influential works involve AI and machine learning, we will be dissecting how technology can influence personal creation, but also how it can transform the way we interact with art as a society.
Scott Eaton
Scott Eaton is an artist, educator, and creative technologist residing in London, UK. His work explores the boundaries of figurative representation by combining traditional craft with contemporary digital tools. Scott's art and designs have been featured in GQ, Vogue, Vanity Fair, the New York Times, and recent collaborations include work with legendary artist Jeff Koons, Nike, the BBC, and French crystal company Lalique for Elton John,. Scott's list of entertainment clients includes Pixar, Disney, Sony, Warner Bros, Electronic Arts, Ubisoft, and many others. 
Cadie Desbiens-Desmeules
Cadie Desbiens-Desmeules is a Canadian media artist based in Lisbon, Portugal working between generative art and live performance. Through her work, her mission is to provoke thoughts and internal discussions around how we relate and engage with new technologies. Her work primarily lives online or in the form of installations, spanning multiple surfaces or immersive environments. As creative director and visual artist at Push 1 Stop, she's collaborated with top industry talent and agencies leading her to work alongside household names like Beyonce, Jay-Z, Billie Eilish, Bruno Mars, and many more. Moreover, her art has been showcased across the globe including digital art festivals and art galleries such as TodaysArt (NL), the International Symposium for Electronic Art (ISEA), and Somerset House (UK).  Alongside other artists, speakers, and public figures, Desbiens-Desmeules was also selected by We Are Europe (WAE) as one of the 64 most inspiring European personalities.
PRESENTÉ PAR / PRESENTED BY