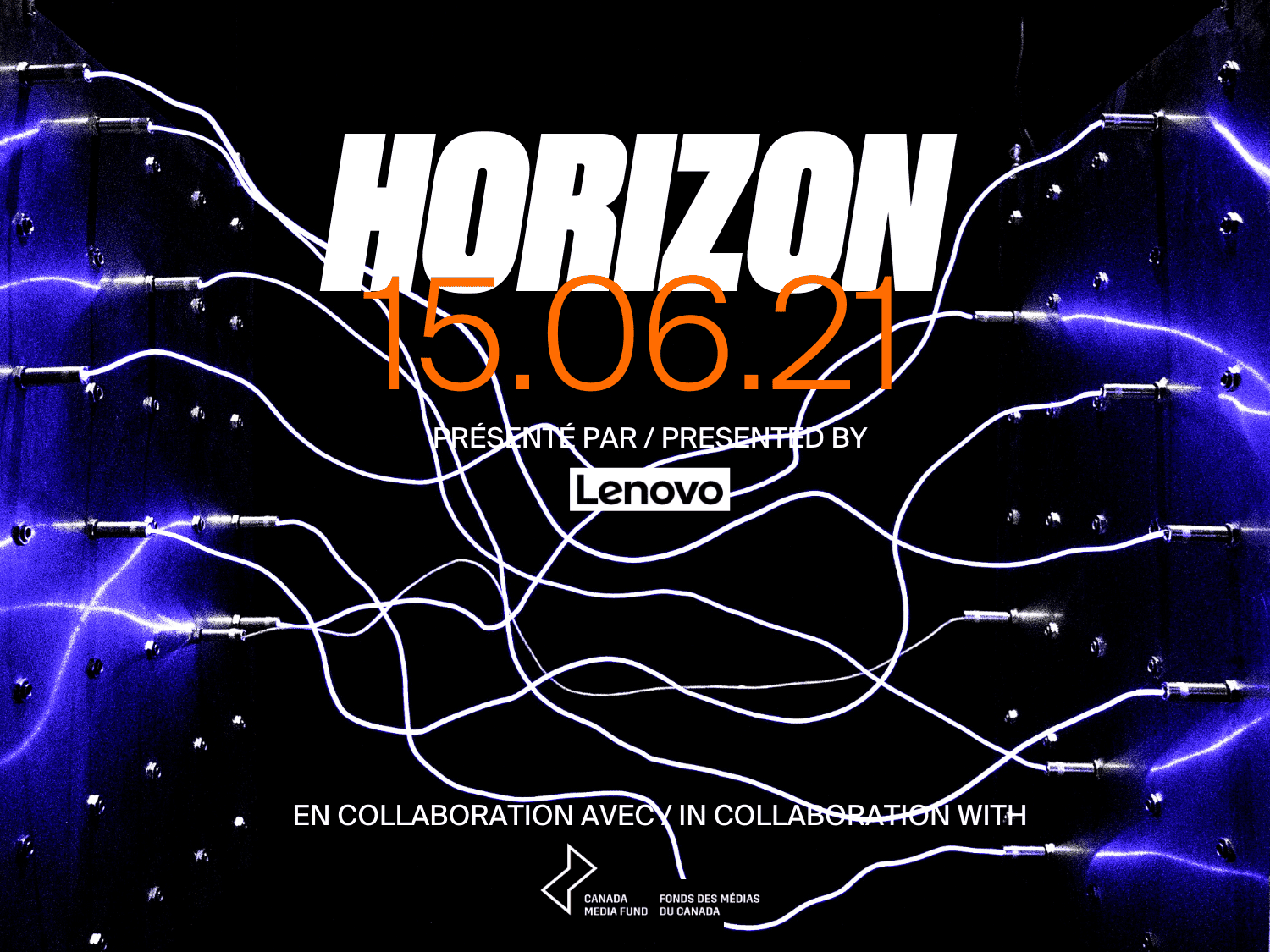 LGBTQ2S + creators in collaboration with the Canada media fund
HORIZON presented by LENOVO
---
LGBTQ2S+ CREATORS – HORIZON series, presented by Lenovo, in collaboration with FMC Trends
How do we raise the voice of the LGBTQ2s+ community and propel its visibility and representation on screen? Join Catherine Mathys, Director of Strategic Intelligence at the Canadian Media Fund, to discuss promising avenues with committed artists and creators Jess Rowan Marcotte, Chloé Robichaud, and Laurent Maurice Lafontant, working in various sectors of the screen industry.
Jess Rowan Marcotte, co-founder, Soft Chaos Cooperative
Dr. Jess Rowan Marcotte designs, writes and is always thinking about interactive experiences from a queer, intersectional point of view. They are co-founder of the Soft Chaos Cooperative and the lead co-organizer of the Queerness and Games conference (QGCon). They hold an individualized doctorate in interaction design from Concordia University. 
Chloé Robichaud, screenwriter and director 
Chloé Robichaud, screenwriter and director, already has an established career. In 2013, she is for the second year in a row in the official selection of the Cannes Film Festival with her first feature film, Sarah Prefers to Run. In 2012, her film Herd Leader was also presented in Cannes, nominated for the Palme d'Or for short films. Both were screened in many international festivals. In 2016, her film Boundaries, which explores the life of women politicians, was selected at the TIFF and presented at the opening of the Quebec City Film Festival. The film won the prestigious "New Directors" award from the Seattle International Film Festival.Chloé is also the creator of the web series Féminin/Féminin, which, since its launch in 2014, has received international acclaims, more than 1 million views and 2 Gémeaux Awards. She directed many episodes of TROP, TV series starring Evelyne Brochu and Virginie Fortin, earning a 2018 Gémeaux Award nomination in the director/comedy category.
Laurent Maurice Lafontant, president, Massimadi Foundation 
Laurent Maurice Lafontant is the president of the Massimadi Foundation, the organization behind Massimadi: LGBTQ+ Afro Film and Arts Festival. Laurent has directed two short documentaries on the issue of homosexuality in Montreal's Black communities: Être soi-même (2012) and Au-delà des images (2014). He is also a writer who has published several short stories and a novel "La dernière lumière de Terrexil".Of Haitian origin, Laurent arrived in Quebec in 2001. He graduated in Fine Arts from Concordia University in Montreal in 2008, after completing a double major in Film Studies and Literary Studies. Since then, Laurent has been involved in the LGBTQ2S+ community by becoming a speaker at Gris-Montréal and a volunteer at Arc-en-ciel d'Afrique, an organization that works for LGBTQ+ people from black communities.
Moderator : Catherine Mathys, Industry and Market Trends, Canada Media Fund / Now & Next
PRESENTÉ PAR / PRESENTED BY