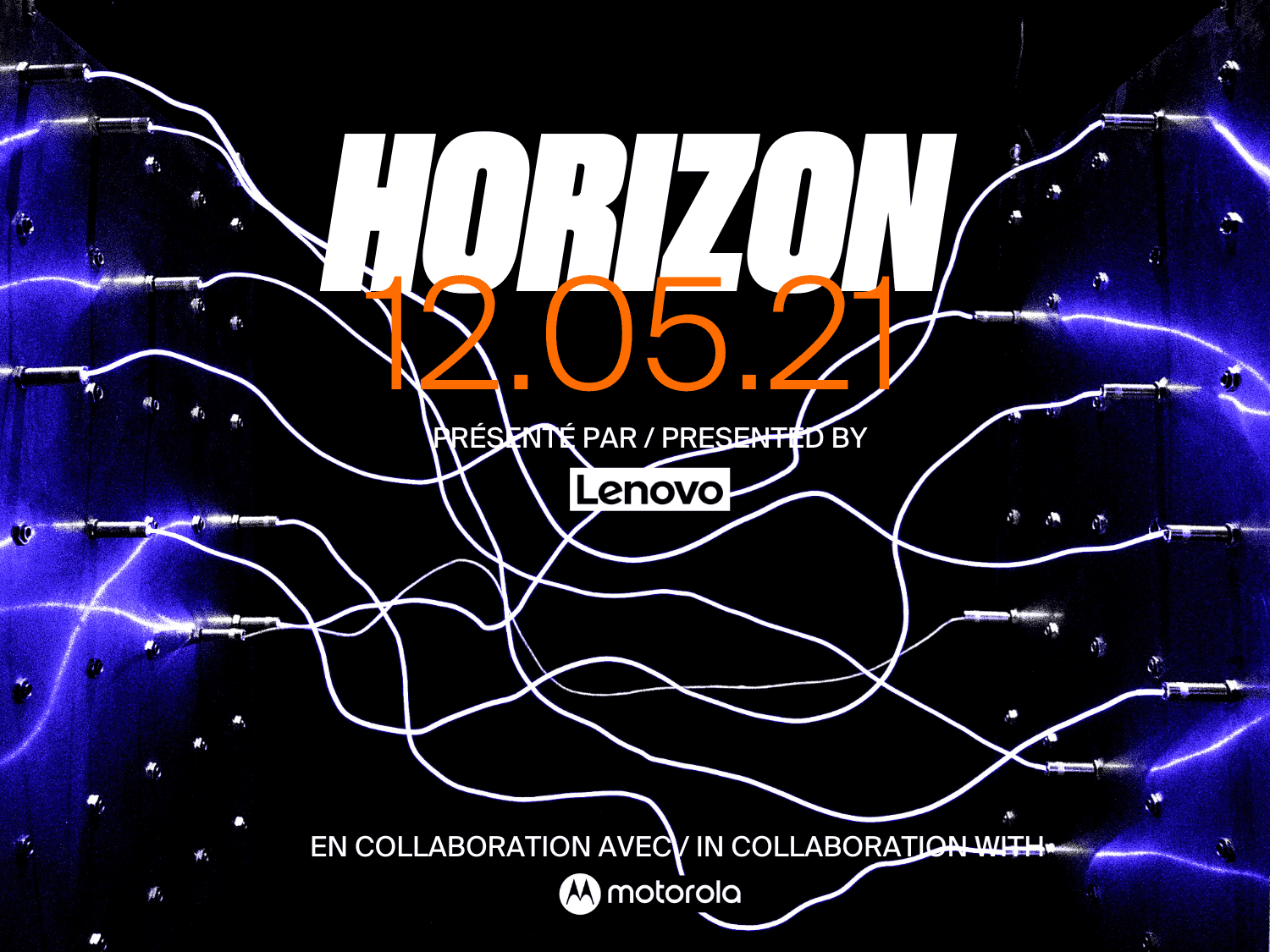 HORIZON – presented by LENOVO, en collaboration avec Motorola
---
PUSHING BARRIERS – HORIZON series, presented by Lenovo, in collaboration with Motorola
The work and contribution of Black creators are immeasurable yet often overlooked in mainstream culture. Creatives and entrepreneurs have tapped into technology for outreach, elevating communities and raising awareness, expanding narratives and creating new possibilities.
Williamson Dulce (0rijin Village), Ahmed Ismael (HXOUSE), and Brandon Pankey (Live Nation Urban), take a moment to share their own journeys, shed light on the barriers their communities face, and explain how technology can be put to use to uplift voices and pave the way to a more diverse and inclusive society where representation matters.
Williamson Dulce –  Director of Technology and cofounder, Orijin Village
Williamson Dulce (Orijin Village) AKA Billy is a Creative Director, Multidisciplinary Designer & Serial Entrepreneur who shares an incredible passion for lifestyle, fashion, and technology. He combines his impressive 20-year background of business experience, with his intention to advocate for Black communities, practising creativity and building innovation. He is the co-founder of 0rijin Village, a NPO dedicated to the personal and professional development of Black people. 
Ahmed Ismail – Founder and Head of Operations, HXOUSE
Ahmed Ismail's culmination of experiences have managed to lay the groundwork in driving HXOUSE to one day become a global platform for the next generation of creatives, enabling them to stop dreaming and start activating their career ambitions. He is a global innovator and industry insider with a proven track record for spotting emerging trends. Ahmed started Influencers PR after exiting a rewarding career in US federal politics. His negotiation skills, as well as his ability to simultaneously see the big picture and distilled it into actionable details enabled him to work alongside the NFL, the Super Bowl, NCAA Final Four, and the NBA. Ahmed is also a well-known fundraiser and philanthropist in the global aid community. He has served as the catalyst on several causes and aid missions both domestically and internationally for more than a decade that have raised millions and awareness to help alleviate the challenges of underserved communities globally.
Brandon Pankey – Vice President of Business Development & Operations, Live Nation Urban
As Live Nation Urban Vice President of Business Development & Operations, Brandon Pankey has been an integral part of a team that brings signature urban events and festivals in Hip Hop, R&B, and Gospel to the public. Brandon has helped developed shows in partnership with companies such as Spotify, Google (YouTube), Audiomack and Amazon. In addition, he's produced festivals nationwide including Roots Picnic, Kirk Franklin's Exodus Music and Arts Festival, and Broccoli City Festival. Beyond Live Nation Urban, he is also founding member of the DASH program, which provides music education opportunities for students in high schools in the United States. He has been a guest lecturer at schools such as Harvard University, New York University, University of North Carolina and Berklee College of Music in Boston. He has been featured in Billboard's coveted "30 under 30" list in 2011 and also was featured as a Billboard "Power Player" Executive in 2019 and 2020.
Moderator : Kim Powell, Canada Marketing Lead, Motorola
Kim Powell is the Head of Marketing at Motorola Canada. She began her exceptional career producing broadcast content for Canadian national TV shows at OMNI and Global TV. She transitioned to the music industry, marketing the urban artist rosters at Sony Music Canada and promoting urban artists with the street teams she led and developed at Warner Music Canada. Her passion for lifestyle and technology led her to achievements designing strategic marketing for such industry leaders, including Microsoft, Nokia and currently Motorola. Between her accomplishments as the Head of Marketing, Mobile Devices at Microsoft and her launch of the first music streaming service in Canada with Nokia Music, Kim has made a name for herself as a multiple, global award-winning sales and marketing executive. She has been a reoccurring guest lecturer at the Harris Music Institute in Toronto.