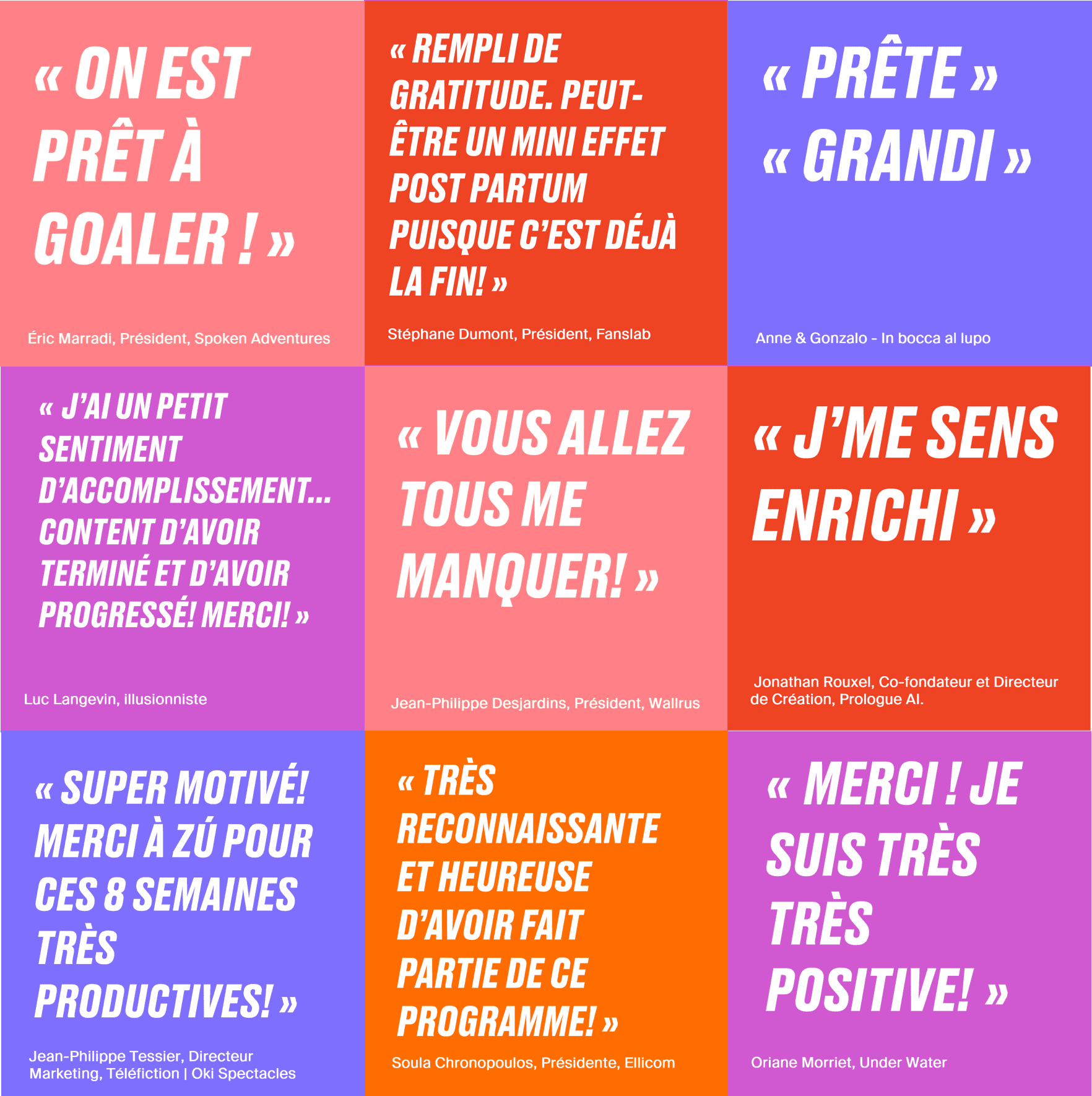 At the end of an intense 8-week journey which included 40 hours of collaborative workshops and targeted support by experts, the Genesis – Facing the crisis program unveils 9 visionary projects whose objective is to humanize social distancing and transpose emotions from the experiential to the digital.
More than 80 projects and 180 entrepreneurs have answered the call, with great resilience and passion, to find solutions to face the major changes dictated by the COVID-19 pandemic. The projects had to respond to one of two challenges launched by the program:
Create new technological tools to humanize the virtual world, adapted to the realities of social distancing
Develop innovative entertainment formats to transpose the emotional power of physical experiences to our new digital world
A selection committee made up of experts and advisers passionate about digital media, data analysis and 5G technology selected the 10 finalists. 
During these 8 weeks of iterative work, the entrepreneurs were supported by validation circles and the expert module, which bring together a mobilized community of large-scale businesses, cultural institutions and public and private partners. These partner's mission was to stimulate the entrepreneurs' inventiveness and advise them in their field of expertise, playing both the role of business intelligence advisers for the industry and for the startups.
Participating companies have taken advantage of the current instability to design technological tools on a human scale or digital content capable of bringing and sharing emotions. Discover their projects and impressions of their journey in the Genesis – Facing the crisis program.
Ellicom – Vx Platform 
Ellicom specializes in tailor-made learning programs. Their Vx platform makes it possible to produce unique, agile and immersive virtual events.
The platform is a technological canvas that adapts to the vision of any type of event. Their infrastructure uses a lego block approach to integrate and sequence virtual, immersive, and multisensory experiences intended to extend and enhance physical experiences. The solution is an integrated and fluid virtual ecosystem that stimulates and improves the production of virtual events, in particular through irreproachable technical support. It offers all clients expanded opportunities for outreach, revenue, recognition, networking and innovation.
"With crisis comes opportunity – the Genesis program has been a key factor in truly accelerating our transformation towards virtual immersive experiences via our new VX platform. Thanks to the Genesis program we have been challenged effectively and as a result, we were able to define a strong framework for our platform, refine our messaging, expand our client network and better structure our offering to a market in need of innovation. Thank you to the amazing team at Zú for an incredible journey!"
Soula Chronopoulos, President, Ellicom.
Fanslab social platforms are transforming the potential for human connections through collaborative content, living learning, intelligent networking and real, hybrid and virtual events, in order to co-create a positive impact, here and everywhere in the world.
In the current context, experiential communities abandon participation spaces and seek authenticity to share living experiences with high human value. The goal is to provide means to virtually recreate a live space and ultimately bring back some of the human interaction that accompanies them.
"We consider ourselves privileged to be part of Zù's ecosystem and such a qualitative cohort, especially in times of crisis. Covid-19 forces us to see the world differently and imagine a better future, we had the chance to do it with visionary entrepreneurs and it was inspiring."
Stéphane Dumont, CEO, Fanslab et Charlotte Belleau, Executive producer, Float4.
Hub Studio – In bocca al lupo 
The In bocca al lupo project is a poetic performance in the form of a sculpture that unfolds through the action of the participants to bring together a new perspective on public space. The aim is to engage passers-by and offer them a narrative experience through a work that brings together dance, music, cinema and the visual arts.
The first work presented by In bocca al lupo is "Lucia's Last Tour". This work tells the timeless story of Lucia and her passion for dance, light and people. Through movement, Lucia invites all passers-by to take part in a unifying scene illuminating the most beautiful squares in the world. All participants are intimately linked to the beauty of the performance they put on. This splendid representation is memorable for anyone who comes into contact with it. Lucia allows you to see the beauty of everyday life, that which disappears, worn out by habit, and to transmit it to all those around her. Through his gaze, the light takes on its full meaning and its elegance magnifies the place.
"The first positive point of the Genesis program was the support, from the Zù team, as from the consultants and especially from the other entrepreneurs. The creation process is always a fragile moment, the idea evolves quickly and the speed at which everything changes is sometimes dizzying, and I felt listened to during this program, I found a lot of empathy. The discussions are constructive and the speed at which we move forward is adequate, although demanding. The Genesis program comes at the right time in a delicate global situation. To summarize in one word I would say: generous."
Gonzalo Soldi, Co-founder and Creative Director, HUB Studio.
"The Genesis program has enabled us to identify the essential elements linked to the creative and commercial success of our project In bocca al lupo. Throughout the process, several questions have resurfaced, whether during the meetings with peers, with the various circles of support as well as through expert consultation sessions. Immediately, I felt a reciprocal sharing of sincere and authentic advice which pushed us to dissect our reflexes and to take enlightened decisions, aligned with our vision and our values. Hypothesis validation is a key part of the success of the program and it is a practice that I will maintain for the future. Thank you!"
Anne Lagacé, Co-founder and Artistic Director, La boîte interactive.
Lorganisme – Under water

Under Water is a stereoscopic virtual reality aquatic dance film with ambisonics, about ten minutes long. By wearing a virtual reality headset and headphones, the experience immerses the viewer at the bottom of a swimming pool for a course in aquatic relaxation. The user can thus explore the space in 360 degrees with ease, turning his head from right to left and from bottom to top.
Under Water allows the viewer to follow the physical evolution of five characters: Barbara, Rose, Medhi, Line and Jean-Michel. Possessing diverse and varied morphologies, they have little or nothing in common: they are all enrolled in the aquatic relaxation course given at the community center in their neighborhood. This is an opportunity for them to reveal themselves in movements, out of the water and under the water, under the gaze of the spectator.
"Genesis was a real catalyst for us! The program allowed us to launch the research and development of our virtual reality dance piece: Under Water. By welcoming our team of three women artists to its cohort, it promotes feminine Quebec culture. Thanks Zú! "
Oriane Morriet, Chélanie Beaudin-Quintin & Caroline Laurin Beaucage.
Oki Spectacles – Langevin virtuel

This project consists of using augmented reality, virtual reality, 5G and/or other technologies to provide a large audience with personalized magic tricks and unique experiences on a digital platform associated with the renowned illusionist Luc Langevin.
The first objective is to develop an application that will allow users to experience magic tricks in augmented and/or virtual reality.
"The Genesis program allowed me to organize my ideas quickly and efficiently as well as to better structure them in a business context. I was connected with some very relevant experts and potential partners. I leave the program with contacts, an apprenticeship… and good memories."
Luc Langevin, illusionist.
"The 8 weeks of the Genesis program were extremely stimulating and formative. The various workshops and exchanges that we had with the other participants, the cultural and customer circle, allowed us, thanks to very relevant feedback, to develop our project beyond our expectations. Congratulations to Zù for keeping the program human, while it was 100% online. Nice cohort! "
Jean-Philippe Tessier, Marketing Director, Téléfiction | Oki Spectacles.
Prologue AI – VoiceTrip

VoiceTrip ™ enables entertainment content producers to deliver and monetize their content with a location-based approach.
The marketplace platform connects the entertainment content producers of a destination with those who inhabit it. It fits perfectly at any time of the day, but particularly in transit mode. VoiceTrip ™'s mission is to entertain, inform and inspire the best talent, using short, geolocated content.
"The Genesis program allowed us to refine our value proposition and access experts to validate our positioning while connecting to Zù's strong ecosystem to find market fit through its major partners."
Jonathan Rouxel, Co-founder and Creative Director, Prologue AI.
Spoken Adventures is a producer and publisher of interactive audio books. Be part of the adventure and interact with narrative using nothing more than your voice! Stories have never felt so real. Half audio books, half role-playing games, Experience exciting adventures, told by professional voice talents and enhanced with rich and subtle soundscape.
Spoken Adventures also creates interactive posters that trigger audio capsules when captions are spoken aloud, as well as audio escape games. The latest escape game created by Spoken Adventures was about not getting away and staying under lockdown!
"Thanks to the workshops offered by Zú, we were able to better plan our offer, better structure our startup and thus better target our customers. The relevance of the experts helped us to validate our solution and opened up new perspectives of collaboration."
Éric Marradi, CEO, Spoken Adventures.
The Wallrus – Wallrus Digital Festival Platform

The Wallrus is developing a digital festival experience. Beyond a traditional digital platform, the company wants to redefine and create a virtual space that brings together and strengthens the collective experience.
More than a pivotal solution, this platform redefines the virtual festival experience and will remain relevant and complementary to holding physical festivals once the ban on mass gatherings is lifted.
"The Genesis program allowed us to take a good idea, prototype it through multiple iterations with feedback from potential customers, and finally have a product ready to market at the end of the program."
Jean-Philippe Desjardins, CEO, The Wallrus.
The Genesis program – Facing the Crisis is part of the series of activities offered by Le Collectif, a group formed by sectoral associations, La Guilde du jeu video du Québec and Xn Québec, as well as the incubators and accelerators Zú and La Piscine. Through this initiative, Le Collectif wishes to provide immediate and essential support to entrepreneurs in the cultural and creative industries. A project made possible to the contribution of Economic Development service of the City of Montreal.
Le Collectif, an initiative:
A project made possible thanks to the contribution of the City of Montreal.
In collaboration with:
Communication-marketing partner: