Discover our new incubated startups
· News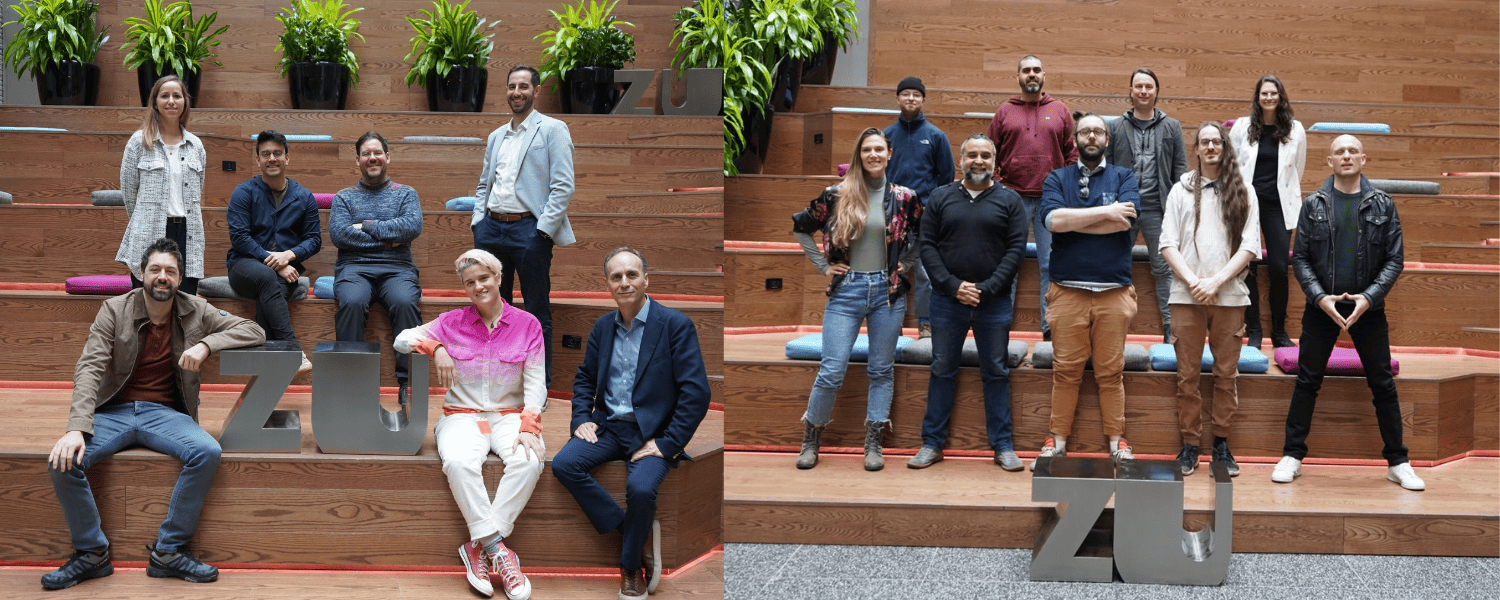 Discover our new incubated startups
We are delighted to present the 13 new companies incubated at Zú. These tech startups now benefit from personalized support to help them achieve their individual goals.
Over the coming months, they will develop their full potential by benefiting from the Venture Mentoring Services methodology developed by the MIT, which establishes a rigorous framework for group mentoring that is conflict-free, impartial and confidential.
We're proud to support a rich diversity of impactful projects within the creative industries. Through solutions using the latest technological advances, such as artificial intelligence, virtual and augmented reality, nanotechnology and many others, our startups develop innovative tools that simplify, connect, and improve productivity, while others offer new solutions for entertainment, guidance and constructive education.
We can't wait to present them and invite you to find out more about each of these fascinating and ambitious young organisations.
Discover them by clicking on their descriptions below:
Beam me up

Beam me up is developing a man-machine interface at the intersection of neuroscience and augmented intelligence. Based on emotions, cognitive and behavioural states specific to a given situation, Beam me up helps to better assist, improve and personalize user experiences and performance in a variety of sectors.

Beatconnect

BeatConnect is a unique music creation platform that integrates with all applications and tools on the market, enabling every aspect of production to be combined into a single collaborative, interactive and engaging experience.

Giglinked

GigLinked optimizes interactions within the live music ecosystem. The platform facilitates the booking of musicians for events, transactions and the management of administrative tasks, connecting the many players in the music industry with consumers.

HHHusher

HHHusher markets a patented device whose function is to improve the performance of a drum microphone. This results in a better isolated sound and a cleaner, more defined snare drum recording.

Orangead

Orangead offers digital signage, advertising placement and business intelligence products and services, all connected to a transactional platform that enables instant exchange between advertising content and smart screens.

Outpost

OPM.LIVE, developed by OUTPOST MTL, is a professional service for live broadcasting of high-quality video streams, with minimal latency, enabling real-time collaboration with all collaborators during post-production sessions for television, film or advertising.

Phenomena

Phenomena is a world leader in VR attractions for entertainment centres. Its product, the VR eSport Arena, allows players to move freely, creating an immersive and exciting gaming experience.

Subséquent

Subséquent supports companies in the creative industries seeking solutions to increase productivity by automating team workflows through simple, visual and interactive software technology.

Tastet

Tastet is a platform of reliable, personalized gourmet recommendations, guiding users to the best local addresses according to their taste, budget or location via a host of services, including an interactive map and a concierge service.

Tokidos

Tokidos is developing an educational game console for children aged 3 to 7 that helps them develop cognitive skills such as language, auditory skills and problem-solving using artificial intelligence.

Tripura

Tripura aims to apply the benefits of controlled breathing to improve users' performance and health, including the integration of real-time biofeedback for accurate progress assessment. Their mobile app enables immersive, realistic virtual reality simulations tailored to optimize specific physical and cognitive outcomes.

Wallrus

The Secret Life of Monsters, developed by Wallrus Creative Technologies, presents an immersive public art experience using mixed reality to take you into the parallel universe of monsters and their ancient language via the Monstroscope and Quantascope.

Yiqqi

Yiqqi is a platform that enables organizations to rapidly launch video campaigns by integrating content from their communities in an ethical and secure way. Users can generate personalized videos to amplify the reach of their message.
Zú is supported by
Thanks to our partners