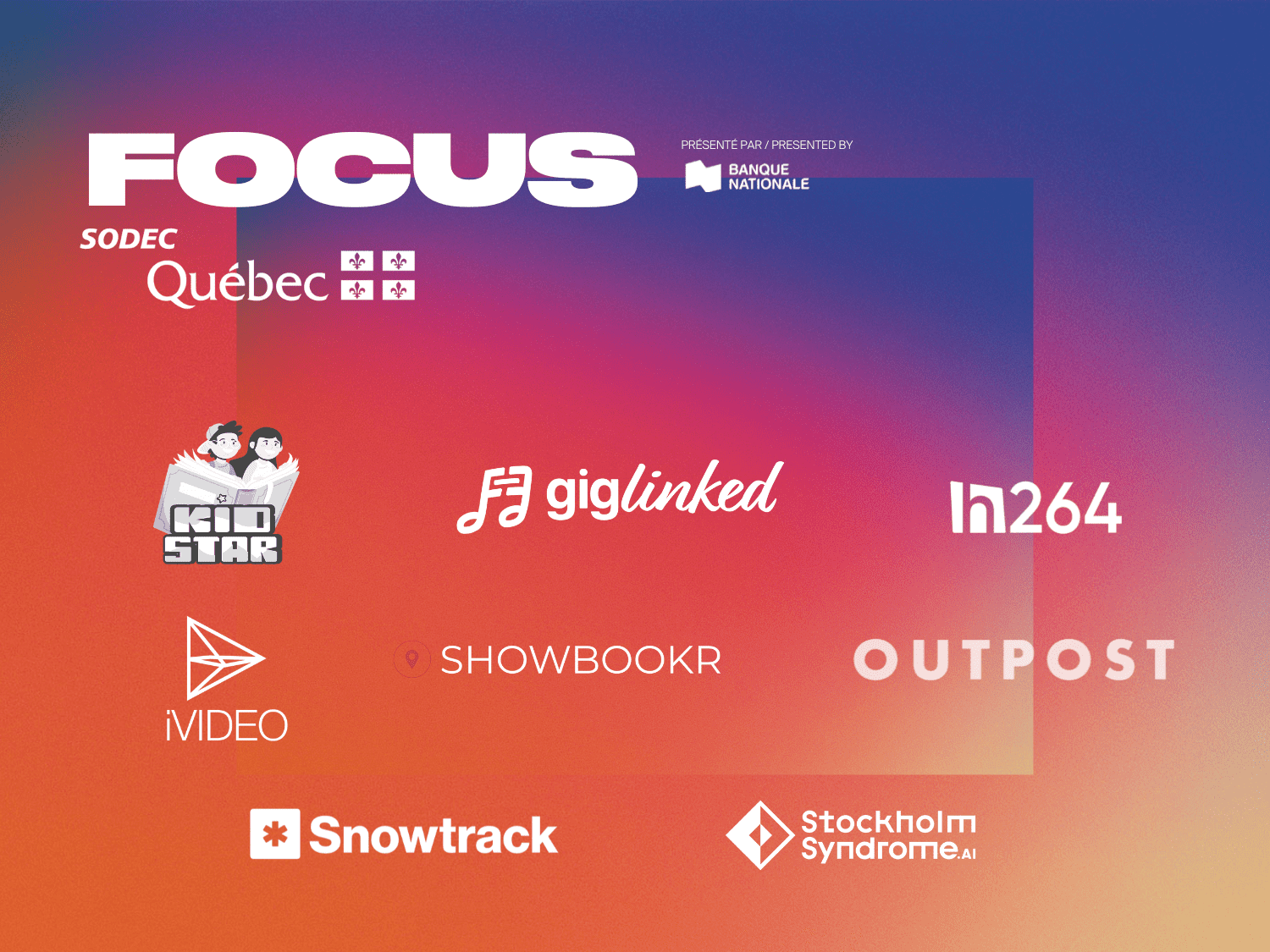 Zú is proud to present the 8 companies selected for the Focus SODEC program. Developed exclusively by Zú, in collaboration with SODEC and the National Bank, this program aims to market, promote and showcase innovative technologies that were developed in-house by Quebec's creative and cultural industries.
The COVID-19 pandemic catalyzed Quebec's entire creative force into creating adaptive strategies that called upon the technological sector to produce, create, and distribute remotely. The Focus SODEC program will prepare businesses and their leaders to market new technological solutions based on a tech carve-out process (the creation of a new company), or to set up a new line of business that could generate new sources of revenue.
Selected from over 50 applicants, the eight companies will benefit from personalized support including three dedicated mentors and a network of experts who will help sharpen their entrepreneurial skills through a series of workshops, coaching sessions and pitch clinics.
"Recruiting for this program proved to us that there are indeed non-commercialized technological nuggets in Quebec. In fact, I'm impressed by the sophistication and the innovation of the technologies that these Quebec companies developed. I am particularly excited to see the wealth that will now be created for the benefit of cultural and creative industries," said Dimitri Gourdin, CEO of Zú.
"This program and its call for applications has once again shown just how much Quebec's cultural industry stands out through its creativity and its capacity to reinvent itself. All these projects were born from a difficulty or need the company or one of its clients were experiencing. The Focus SODEC program will make this solution available to as many companies as possible, while helping them generate additional revenue. We are proud to bring the worlds of culture and business together this way," said Louise Lantagne, President and CEO of SODEC.
Congratulations to the following companies: Apptcom, GigLinked, h264, HIT FILM inc., Les 7 Doigts, OUTPOST MTL, Snowtrack and Stockholm Syndrome AI. We can't wait to see this group's promising projects in action.
Find out more about their solutions!
Apptcom | Project Kidstar
KidStar is an innovative reading platform for children to read interactive stories. Children have the ability to create their imaginary hero and use it within the platform to read and achieve new missions throughout stories. The platform mixes the virtual and physical world to make it more intriguing to the reader.
GigLinked

GigLinked's mission is to create a central hub to facilitate transactions and optimize interactions within the live music ecosystem. Their social marketplace makes it easy to book musicians for live events, to streamline payments and administrative workflows, and to network with other engagers in the live music industry.
h264 | Project Hercules de l'audiovisuel (temporary name)
Hercules is a Web application that automatically controls the presence of films on platforms and search engines. A data extraction tool allows to collect all the data of a film and to gather them in a single interface, with a visualization tool that allows to mesure their discoverability.
HIT FILM inc. | Project iVIDEO

iVIDEO is a SAAS (software) allowing you to create the most innovative, interactive and complex videos you have ever seen. iVIDEO's technology goes much further. By incorporating artificial intelligence and synchronization with thousands of apps, iVIDEO offers a personalized experience beyond what already exists.

 
Les 7 Doigts | Project Showbookr
ShowBookr acts as a worldwide visualization tool for all producers and distributors of shows and experiences. By offering a complete overview of supply and demand in the industry, ShowBookr is the first tour management tool for the live entertainment industry. It uses artificial intelligence to connect the best-matched distributors and producers, while allowing them to choose the shows or venues that are best suited.
OUTPOST MTL | Project OPM.LIVE
OPM.LIVE is a professional, low-latency, high-quality live video streaming service that enables real-time collaboration with all collaborators during post-production sessions for television, film or advertising projects.
Snowtrack
Founded in 2021 by veterans of the gaming and visual effects industries, Snowtrack builds intuitive version control tools for creatives and designers. Dubbed the "Git for artists", Snowtrack combines industry-leading technical practices with artist-friendly controls. Creatives around the world use Snowtrack to collaborate on projects, restore progress and deliver quality work.
Thank you to the members of the selection committee:
Vanessa Cherenfant – Cossette
Simon Cypihot-Cardinal – SODEC
Mathieu Deschamps – Norton Rose Fulbright
Jeanne Dorelli – Zú
Julie Larochelle – National Bank
Bertrand Nepveu – Triptyq Capital
Andrei Uglar – SmartReno (Acquired by RBC Ventures)