FOCUS 2020: AN ACCELERATED VERSION OF GO TO MARKET DESPITE A PANDEMIC
· News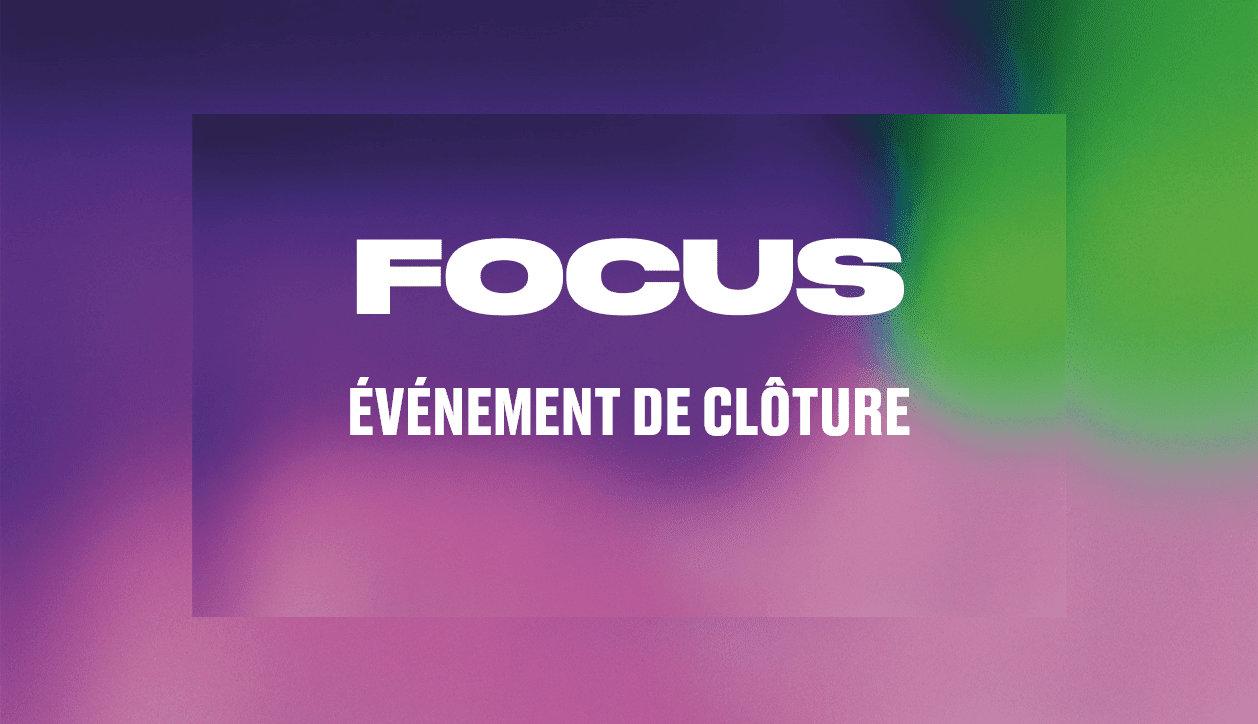 Last night, with a glass in hand, we celebrated online the end of an epic and significant chapter for the 5 resilient enterprises that took part in our Focus Program. For 12 weeks, during the pandemic, E.D. Films, Gallea, Gridspace, Madefire and Shaftesbury benefited from 200 hours of customized consultation and 36 hours of workshops, conferences and trainings. More than 60 people, the start-ups, the experts, the guides, the CEOs in resident, the partners as well as the Zú team were able to pivot in a matter of weeks in order to offer this program virtually without expensing any elements. Impressive! Congratulations! Hats off to you all!
Yesterday, 100 people connected to view our closing event online to discover the projects that are currently redefining and rethinking the new normal of today's entertainment. These teams have showed that they have what it takes to push and propel their creative forces to become a true entrepreneurial force. These last few weeks, the companies in these cohorts have passed through a crucial step where they graduated from ideation to strong growth and where a prototype has met its market and where brands have found their voice and their unique personalities. Mid pandemic, the start-ups in this cohort were able to go to market with their projects in an impressive accelerated matter and these amazing accomplishments are nothing short than incredible.
E.D. Films
"E.D. Films work with Zú's Focus incubator program was one of the most valuable business moves we have ever made. The program has been essential in driving our strategic, financial, and leadership approach to our next exciting stage of growth from start-up to a solid, sustainable company."
Archita Ghosh, Executive Producer, E.D. Films
E.D. Films is an award-winning animation studio and digital tools maker. From hybrid animation, XR and immersive content to technical creation tools and tutorials, our art + tech team treats both our own IP and our clients' projects with creativity, expertise and thoughtfulness while we drive it to high-quality completion.
Gallea
"We were impressed by the complementarity of the mentors of the Focus program. They allowed us to ask the right questions in order to grow our solution internationally. In just a few months, we saw an increase of more than 400% in the sales of works of art on the platform as well as a significant increase in our artists with more than 350 new registrations."
Guillaume Parent, CEO and Cofounder at Gallea.
Gallea is the largest online art gallery in Quebec in addition to being a network of establishments exhibiting the works of these artists. With the help of technology, we are democratizing the way of discovering and consuming art, both online and offline, while stimulating the local economy.
Gridspace
"The Focus program at Zú steered us towards a smaller more flexible iteration of our product making it more scalable and accessible. The quality of the guides and level of their input was world class."
Hugues Léger, Partner at Gridspace
Gridspace has started a new phase of its development with two new partners: Hugues Letellier and Hugues Léger. This association will allow Gridspace to accelerate its growth in the entertainment, wellness and immersive experiences sectors.
Gridspace is a multimedia creation studio specializing in the design and production of creative environments in situ. We have created temporary installations or permanent infrastructures at the intersection of the physical and digital worlds using our inventive scenography, motion design and the latest technological innovations.
Madefire
"Working with Zú has been wonderful, we have launched Madefire Montreal! Being able to arrive into their ecosystem of alliances, work with their coaches and be a part of the artistry and engineering of Montreal is such a unique opportunity, thank you."
Ben Wolstenholme, CEO, Madefire
Madefire is a content technology company that provides creators and publishers with a state-of-the-art publishing platform called "Motion Book Tool" which makes a digital approach to multi-platform publishing in a variety of formats, from phones and tablets to TV and XR, possible.
Shaftesbury
"Zú Focus program is the ultimate connector. We found the experience of the Zú accelerator to be incredibly helpful at a critically important time in our development. The advisors experience and insight was tailored to our needs and they provided us the coaching necessary to move this to the next level of success."
Ted Biggs, VP Technology at Shaftesbury.
Shaftesbury is a leader in the creation, production and distribution of high value scripted, branded, mixed reality and digital programming for international audiences, with reach in over 120 countries. Continuing in this tradition, Shaftesbury Technology is reimagining pediatric healthcare through next-generation patient engagement and positive distraction therapy.
Zú team joins its initiator, Guy Laliberté, to thank all the partners, experts, guides and CEOs in residence who have contributed to the success of the program.
COMITÉ DE SÉLECTION / SELECTION COMMITTEE
ALEXANDRE AMANCIO
Reflector Entertainment

PDG

CEO

TONY BUU
TELUS

Directeur général, Stratégie technologique, Réseau mobilité

JEAN-CLAUDE BUSTROS
Concordia

Associate Professor (Film Production), Cinema Chair

DAVID DAVIDSON
TELUS Communications
Consultant en gestion, stratégie technologique
Management Consultant, Technology Strategy
MARIE CÔTÉ
Côté Multimédia

Présidente

JULIA CYBORAN
C2

VP Marketing & Audience

JEANNE DORELLI
Zú

Directrice marketing et développement des affaires

Director Marketing and business development

CLAUDE GAGNON
Consultant

Conseiller et investisseur en technologie pour les médias et le divertissement

DOMINIC GAGNON
Connect&GO

Cofondateur et CEO Co-Founder and CEO

ROBERT HOFFMAN
Lenovo

Senior Worldwide Industry Manager, Media & Entertainment

SHAUHAN KATAROYAN
Consultant
Capital-risque et capital-investissement
Private Equity & Venture Capital
BRIGITTE LEBLANC
Banque Nationale – National Bank
Vice-présidente associée Canada &   International
Associate Vice President Canada &   International
JENNY THIBAULT
XN Québec

Directrice générale

General Manager

CEO EN RÉSIDENCE
VICTOR DURO
Alice & Smith Studios
Cofondateur Co-Founder
DOMINIC GAGNON
Connect&GO

Cofondateur et CEO Co-Founder and CEO

ASHKAN KARBASFROOSHAN
WatchMojo

PDG

CEO

ANTHONY PALERMO
Connect&GO
CofondateurCo-Founder
GUIDES
MÉLANIE BERNARD
Bikini Village
Gestionnaire senior des opérationsSenior Operations Manager
DAVID DAVIDSON
TELUS Communications
Consultant en gestion, stratégie technologique
Management Consultant, Technology Strategy
MAZEN EL BAWAB
Ubisoft
Programmeur en chef – Rainbow Six SiegeProject Lead Programmer – Rainbow Six Siege
MARIE-NOËLLE GAGNON
Cirque du Soleil Entertainment Group

Talents internationaux et récompenses mondiales

International Talent Mobility & Global Rewards

MATHIEU GATIEN
Lune Rouge Entertainment

Directeur exécutif de création

Executive Creative Director

SAMER GEISSAH
TELUS
Gestionnaire senior des opérationsDirector, Technology Strategy
BRENDAN HANDLER
Consultant
Média et divertissementMedia & Entertainment
JEAN-LUC HÉBERT
Saimen

Vice-Président, ventes internationales et marketing
Vice President, International Sales & Marketing

SHAUHAN KATAROYAN
Consultant
Capital-risque et capital-investissement
Private Equity & Venture Capital
MARK KHOURY
Coach pour entreprises en démarrage

Startup Coach

ELIZABETH LAETT
Holt Accelerator

Partenaire
Managing Partner

LUDOVIC LANGLOIS THERIEN
Media & Entertainment Strategist

Chef du développement des affaires – Division multimédia
Head of Business Development – Multimedia Division

ANDRÉ LAVIGNE
KM&T

Fondateur et conseiller principal
Founder and Chief Advisor

BRIGITTE LEBLANC
Banque Nationale – National Bank
Vice-présidente associée Canada & International
Associate Vice President Canada & International
PAUL MACO
Moon Consultants

Président
President

FLORIAN MESNY
Moonrakers
PDG et Directeur généralCEO & Managing Director
ALEXANDRE MIASNIKOF
Lune Rouge Entertainment

Directeur exécutif – Production
Executive Director – Production

PAUL ORTCHANIAN
Bain public

Fondateur et PDG
Founder and CEO

RYAN PETERS
Quadbrige
Partenaire mondialGlobal Managing Partner
DELPHINE POUX
Consultante
Consultant
DANY RENAULD
Pilote groupe-conseil

Vice-Président, Chef des opérations
Vice President, Chief of operations

MARTJIN STEINRUCKEN
AeonVirtual

Fondateur et Chef des technologies
Founder and CTO

ARIANE-LI SIMARD-CÔTÉ
Sommet du design de Paris
Directrice générale
General Manager
LAURENT VERNET
Spécialiste en Arts et Espaces Publiques

Chargé de projets, Collections d'oeuvres d'art
Project Manager, Art Collections

CONFÉRENCIERS / SPEAKERS
NASSIM BENNACER
EY

Gestionnaire senior – Incitations fiscales
Senior Manager – Business Tax Incentives

RON CHERILUS
Centre I AM

Président et fondateur
President and Founder

DAVID DUFRESNE
Panache Ventures

Partenaire
Partner

SIGRID ELLEFSEN
TELUS Solutions d'affaires – TELUS   Business
Directrice générale, Ventes
Executive Director, Business Solutions
VALÉRIE FORGET
Bonjour Startup/OSMO

Directrice innovation
Innovation Director

GENEVIÈVE GUAY
Dentsu X

Présidente
President

JEAN-LUC HÉBERT
Saimen

Vice-president, ventes internationales et marketing
Vice President International Sales & Marketing

STEPHEN KIELY
DentsuBos

Président et PDG

President & CEO

BRIGITTE LEBLANC
Banque Nationale – National Bank

Vice-présidente   associée Canada & International
Associate Vice President Canada & International

SIMON MCDOUGALL
Synopsis Marketing
Associé
Associate
BIANCA PIETRACUPA
Norton Rose Fulbright
Avocate
Lawyer
NIKITA STEPIN
Norton Rose Fulbright
Avocat senior
Senior Associate
JULIEN THIRY
DentsuBos

Directeur créatif associé
Associate Creative Director

JOSÉE TURCOT
Banque Nationale – National Bank

Directrice   de comptes
Account Director