GUILLAUME THÉRIEN, GENERAL MANAGER OF ZÚ, SPEAKS TO THE COMMUNITY
· News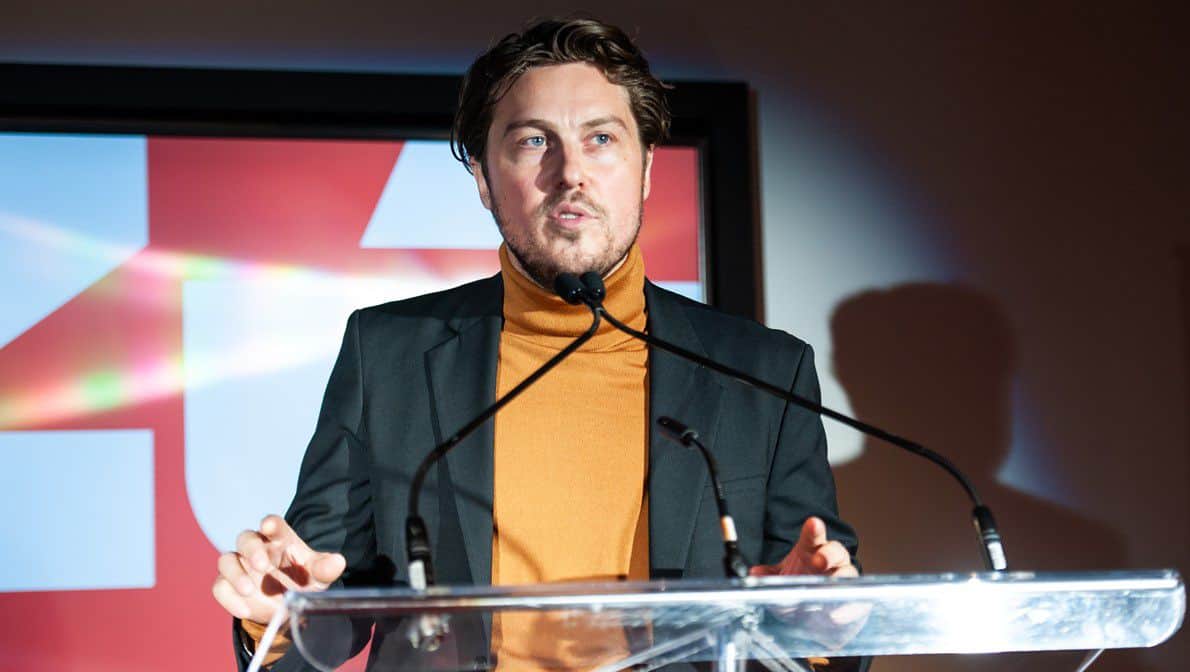 General Manager Guillaume Thérien speaks to the community as part of the official launch of Zú.
Imagine a place where creators can test their ideas.
Imagine a place where startups can define their business models.
Imagine a place where artists can experiment with cutting-edge technology.
Imagine a stimulating place downtown where entrepreneurs can get inspired.
A place where one person's sense of structure feeds another person's creative chaos.
What you're imagining is Guy Laliberté's vision.
And now it's becoming a reality.
At Zú, we cultivate, rethink and redefine entertainment.
Today, I'm here to show you this vision in all its exciting forms.
Zú exists to host, equip and drive startups that will push the boundaries of entertainment.
One of our ultimate objectives is to facilitate the creation, growth and commercialization of new intellectual property, regardless of its current stage of development.
And to keep it here in Montréal, in Quebec, in Canada.
For example, we're going to launch three programs.
If they have a bit of an idea, the beginnings of a project, Zú has the facilities to test and explore the concept in order to create new intellectual property.
If their idea has materialized, but hasn't found its final form, Zú will help add value to the intellectual property.
Some entrepreneurs will have already taken these crucial steps and Zú will help them accelerate their growth and define the next steps that will drive marketing for their intellectual property, locally and internationally.
We must equip the many creative and talented Quebecers to change the creative economy from providing services to creating wealth.
The numbers don't lie. SMEs with intellectual property are
four times more likely to export their products and
60% more likely to be a high-growth[1] company.
Zú will support this collective wealth to promote our culture throughout the world.
We will therefore contribute to Montréal's position as an innovative, entrepreneurial and creative hub by promoting
the creation and growth of startups,
investments and
skilled labour.
There will be personalized incubation and acceleration programs for startups. But the space and community are also open to all entrepreneurs in the creative industries.
More than one in four workers in the creative industries is self-employed and most companies have fewer than five employees.[2]
We want to help you grow. Join the community.
Whether you want to create, get inspired, exchange, collaborate, do business or become immersed in new technology, Zú has the spaces, resources and tools for you.
Zú's creative lab is equipped exclusively with experimental 5G technology. 5G TELUS Lab, in collaboration with Lenovo, will be Canada's first 5G lab dedicated to the creative industries.
And this exceptional community will live in a heritage jewel in the heart of downtown Montreal. A city once known worldwide for selling aluminum manufactured using Quebec's natural resources.
Several decades later, the local community is mobilizing again to promote another form of collective wealth. This time, the raw material is creativity.
I want to thank Zú's team who are part of the community as dedicated organizers of this wonderful chaos.
I would also like to thank all our partners that will make this mission possible.

It's thanks to you that our creators will have the necessary tools to turn their ideas into reality.
Zú's doors are now officially open to creatives, entrepreneurs and artists who want to cultivate, rethink and redefine entertainment.
We look forward to seeing you there!
Guillaume Thérien
---
[1]Five-Year Business Strategy 2017–2022, Canadian Intellectual Property Office, Innovation, Science and Economic Development Canada, p. 26
[2]Creative Industries: succeeding in a rapidly evolving environment, Chamber of Commerce of Metropolitan Montreal, November 2018, p. 25