TRANSVERSAL's META VISIONS project selected for CAM and Zú research-creation residency
· News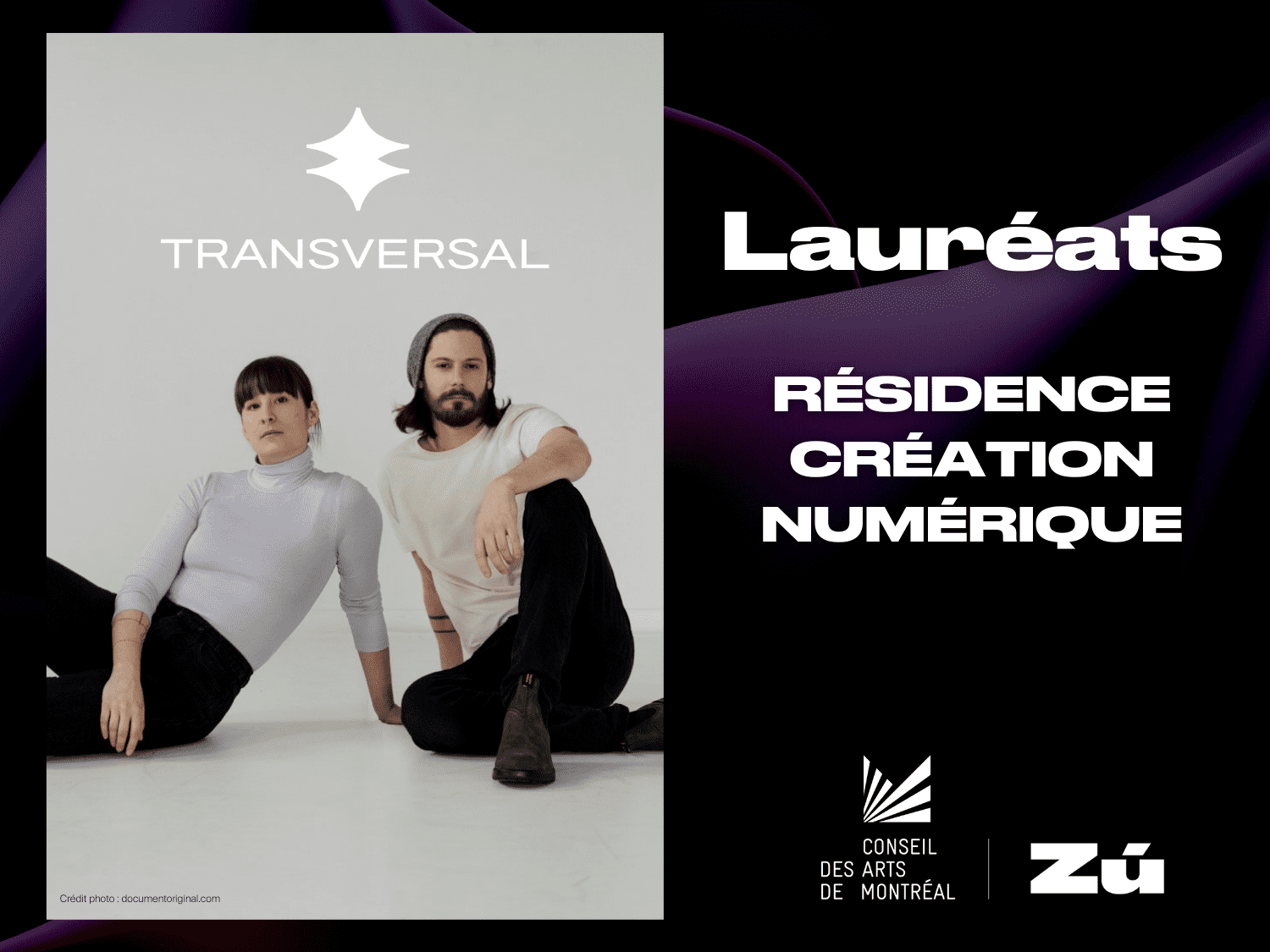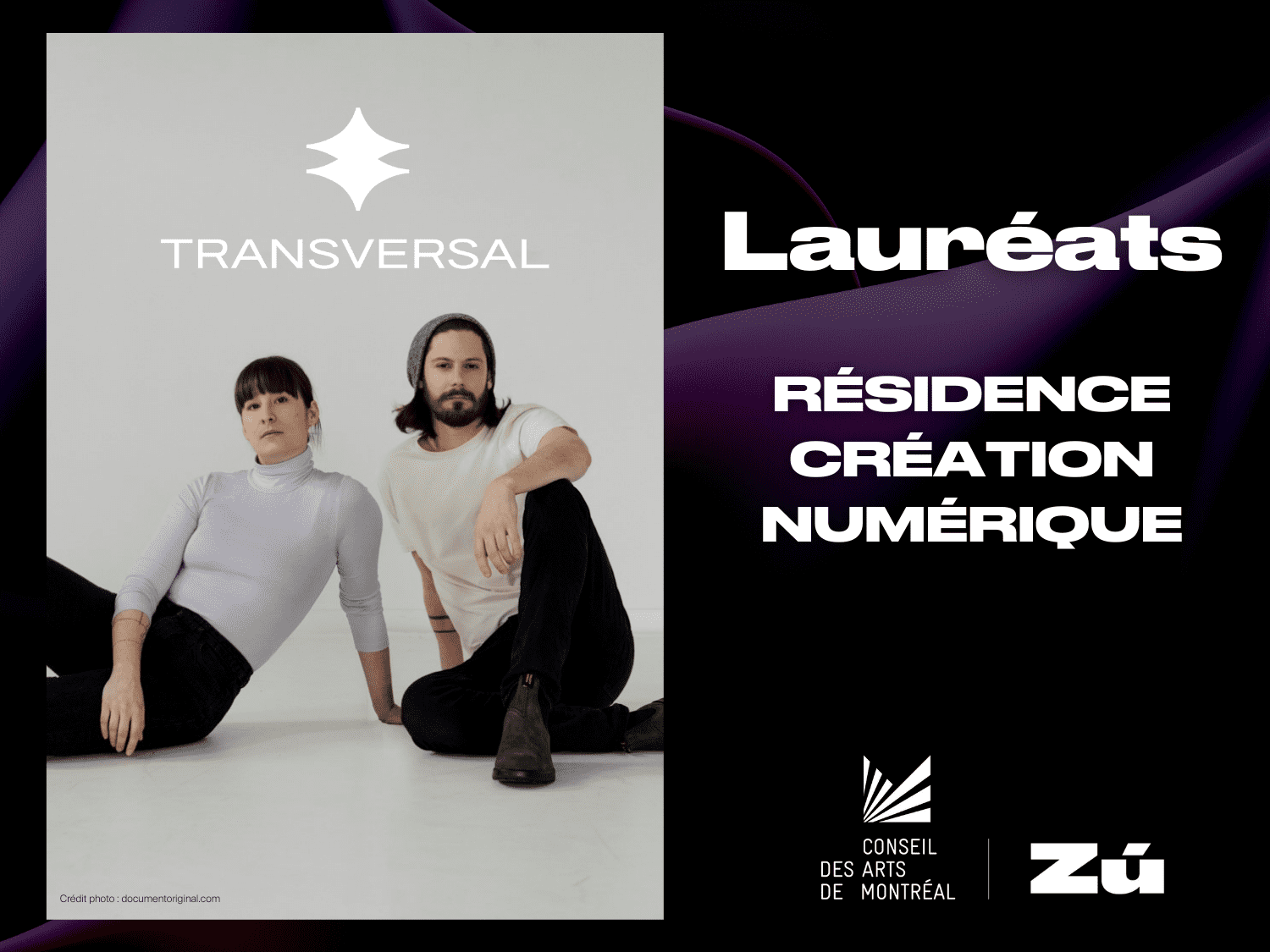 The Conseil des arts de Montréal and Zú congratulate Hamie Robitaille and Ganesh Baron Aloir of the organization TRANSVERSAL for their project META VISIONS, selected for the Digital Creation Residency.
The call for projects was open to artists, collectives and organizations working in the fields of visual arts, performing arts, media arts, digital arts, cinema, music or multidisciplinary practices, with the aim of developing new projects or expanding existing ones, with a focus on innovation and entrepreneurship.
The 3-6 month residency at CAM and Zú includes a stipend of up to $10,000 with full support, including a bank of hours with Zú's expert partners and access to legal, accounting, and financing advice, as well as connections to Zú's technology partners.
This residency will allow the project to integrate a technological component available in Zú's facilities: 5G, VR/AR/XR, video volumetric capture, motion capture, video editing, thus providing access to an experimental space, state-of-the-art technological equipment, and expertise that promotes entrepreneurial development, such as legal, IT, accounting, and financial resources within a creative industries incubator for CAM clients.
The Project: META VISIONS – FOCUS ON MULTIPLE REALITIES
Against the background of a discourse on the hyper-representation of the self and its deformations, the META VISIONS project proposes a staging that focuses on the creation and technological integration of the self and, conversely, on the creation of the self within the technological world. This exploratory work of 360-degree volumetric video recording will rely on the infinite modulation of body movement in real time, thanks to motion capture, in order to build an XR performance and new interconnections between the different technologies available at Zù.
About the recipients: Hamie Robitaille and Ganesh Baron Aloir
Hamie Robitaille is an art director and graphic designer. Constantly playing with the boundaries between art and design, her practice has led her to work for renowned agencies such as Cossette, Moment Factory and K72, as well as developing her own projects in the visual and digital arts. Most recently, his work with BEATS Collective won an Applied Arts Award (Toronto) and was supported by the Montreal, Quebec and Canadian Arts Councils.
An interactive designer, programmer and technology consultant, Ganesh Baron Aloir is an artist driven by the concepts of immersion, creation by chance, space and interactivity, which he develops in particular within his collective project CiÖ, an audiovisual installation animated by artificial intelligence. His expertise in multimedia production has led him to work on many large-scale projects with the biggest names in the industry, such as Cirque du Soleil, the Phi Center and the Society for Arts and Technology, as well as for several museums, theaters and prestigious festivals.
About the organization: TRANSVERSAL
TRANSVERSAL is a creative studio and non-profit organization founded by Hamie Robitaille and Ganesh Baron Aloir with the mission to cross the boundaries between digital arts and creative industries, as well as between artistic, technological and scientific disciplines.
By creating conceptual and transdisciplinary experiences that seek to respond to contemporary issues through design, TRANSVERSAL places people at the center of reflections to stimulate discussion on complex issues while focusing on an integrated vision of technology.
—–
Congratulations to Hamie and Ganesh!