WEBINAR – COVID-19 : MANAGING YOUR GOVERNMENT AFFAIRS
· News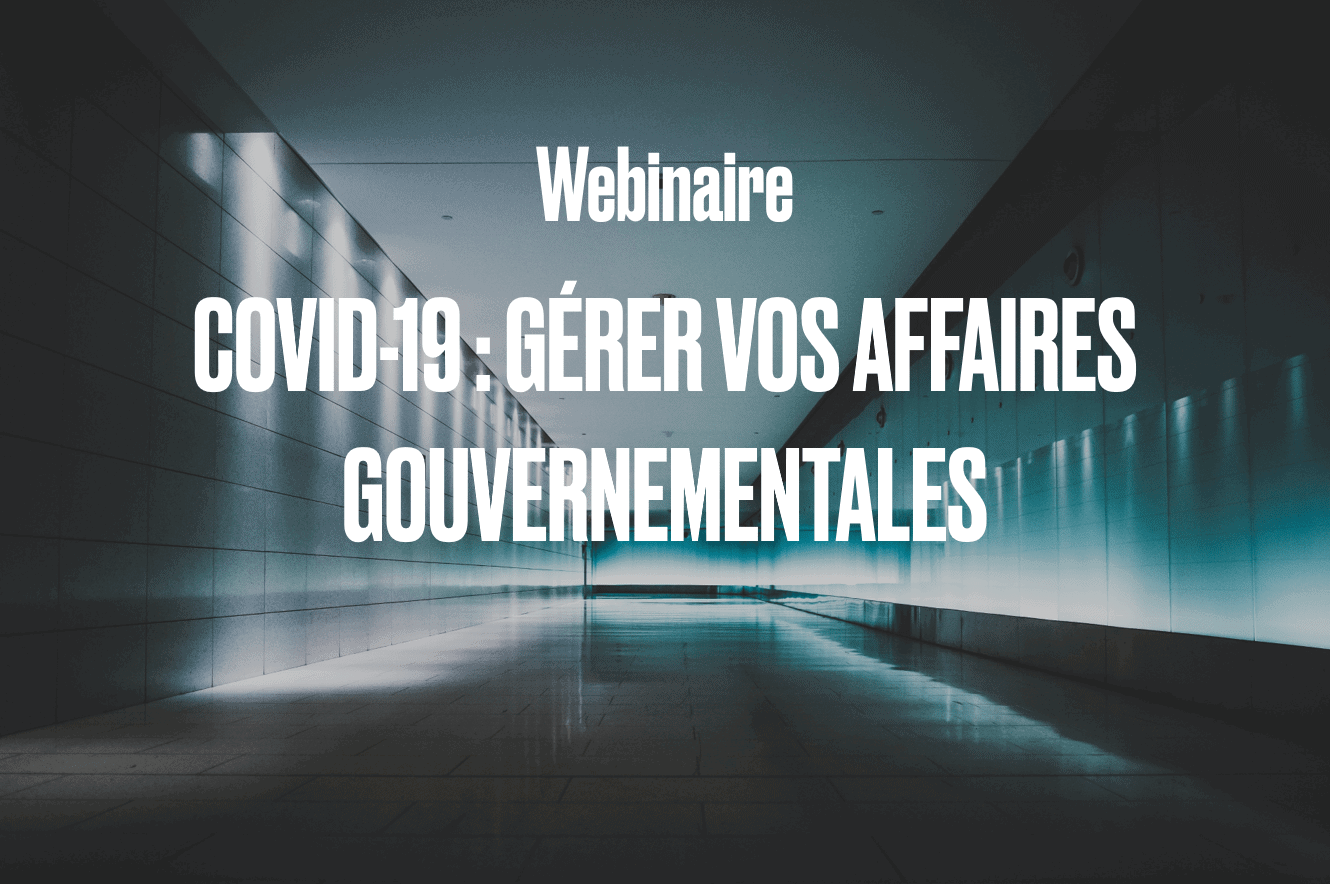 Whether you are entrepreneurs, creatives or artists, we are all coping with uncertain times. We need to seize this opportunity to share ideas, inspire each other and grow together. Zú proposes a series of webinars that will address the challenges of this current crisis of COVID-19 through different themes, in order to support you and answer your questions.
Navigating through government programs in this time of crisis seems daunting. How can you prepare the end of the crisis and plan for recovery. During this webinar, Dany Renauld, Vice President and Chief Operating Officer of Pilote, a consulting group specializing in public and government affairs as well as crisis management, shared his expertise, accompanied as a facilitator by Patrick Gagné, Co-Founder of Bonjour Startup Montréal.
Press play and enjoy!
Right from the start, Dany reminds us that government affairs are more like a marathon than a sprint. It is a process that takes time but that must be taken care of.
He shares his 7 main tips to approach government affairs:
Understand the way the government apparatus works. By understanding the implications, the roles of each the politic and the administrative components, you will be better equipped to navigate through it. Even if it's a big machine, remember that you are dealing with humans.
Prepare your requests carefully. Your message must be clear and precise to establish your credibility and a bond of trust. Prepare a rigorous plan: What are your issues, your challenges, your objectives? Make a diagnosis, identify the stakeholders, the supports, the opponents, the strategy and the messages to convey.
Define your destination. Identify clearly your expectations and clarify what you are looking for before approaching public stakeholders.
Respond to a problem. The government is looking for solutions, so you must be concrete in your project, your product or your service. Keep in mind that the closer the demand is to an existing program, the easier it is to convince politics and government to rework it or make an adjustment rather than starting a program from scratch.
Be clear and play an educational role. To be able to help you, the government needs to understand what you are doing, what you have to offer. It is important to explain and break things down.
Plan the end of the crisis. The paradigm will change completely, since after addressing labor shortage problem governments will want to create jobs. When speaking to governments, keep in mind that you have an opportunity to promote job creation.
Don't be afraid to ask. The squeaky wheel gets the grease. Governments are going to invest massively, so don't be afraid to speak to the provincial government as well as the federal level, often seen as more intimidating.
The issue of the political representation concluded the exchanges with the participants.
If appropriate, you should not hesitate to approach both politicians and public servants. According to Dany, the most important is to speak with a common voice. The government is already highly solicited: the start-up ecosystem would be in better position by joining forces, by uniting around specific requests. Both entrepreneurs and governments have everything to gain.