Zú presents : Vitrine Créative UNREAL
· News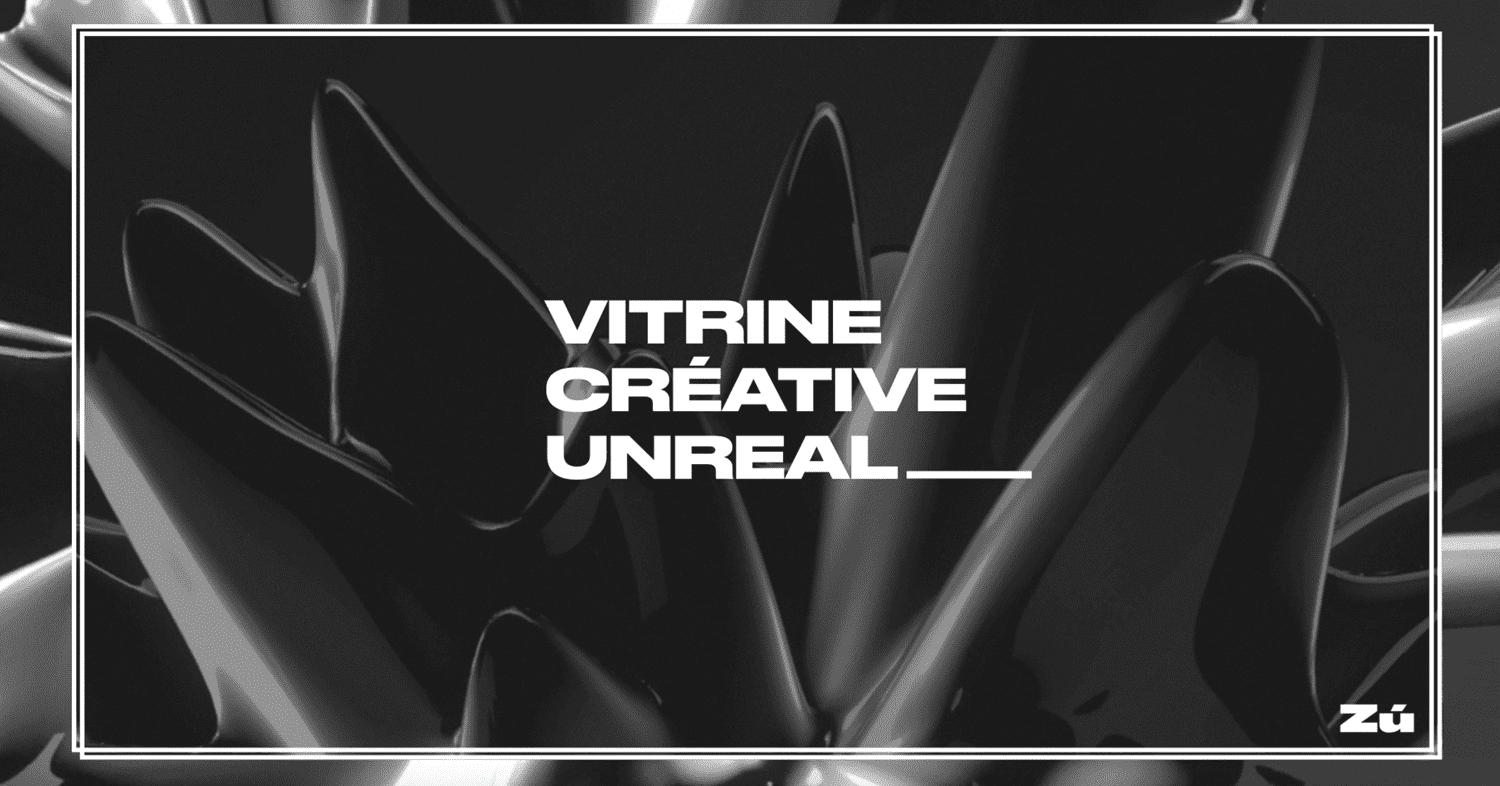 To encourage the presence of innovative projects, Zú called on creatives to submit their wildest projects through the UNREAL Creative Showcase call for projects. 
More than 11 projects were submitted and evaluated by a committee of experts in multimedia production and distribution, including La Guilde des Jeux Vidéos du Québec, XN Québec, Pole Synthèse, and Hub Montréal, in order to select 4 highly innovative projects.
As part of their residency in the fall of 2021, the recipients of the call for projects had access to :
An experimentation and exhibition space in the Atrium, a public space equipped with experimental 5G;
A $1,000 scholarship;
A Nomad workstation in Zú's spaces;
Free access to the technological facilities and tools available at Zú in the TELUS 5G Lab in collaboration with Lenovo;
Capture equipment for virtual, augmented and mixed reality projects;
Video editing and post-production rooms;
Animation stations;
Access to Unreal Engine and the Unreal Developer Network.
About UNREAL Engine
Enabling high-quality 3D virtual production or integrated effects to facilitate post-production work, the Unreal Engine game engine is helping to build a new era of storytelling where the line between real and virtual is imperceptible. Having been used by some of the world's leading filmmakers and production studios over the past few decades, the software has positioned itself as an essential pillar in the video game industry, as well as in film, architecture, and even music and mixed reality.
Discover the projects of the UNREAL Creative Showcase :
NEWEB LABS
Yves St-Gelais, producer at Neweb Labs and specialist in holographic technologies and interactive character design, presents Maya Kodes, an interactive experience between the audience and a holographic interpreter that comes to life using Unreal Engine real-time rendering.
RÉPÉTITIONS 001
Maxime Faure, digital artist, and Jérémie Quesnel, web developer, present REPETITIONS #001, a visual exploration of different repetitive and geometric worlds realized with the help of the realism and precision of Unreal Engine.
GIULIA TAURINO
Giulia Taurino, a postdoctoral researcher at the Institute for experimental AI at Northeastern University in Boston, presents Immersive Datascapes, an innovative way of visualizing information that invites the viewer to interpret data in different forms using the power of Unreal Engine software
TIMOTHY THOMASSON
Multimedia artist Timothy Thomasson presents I'm feeling lucky, a digital artwork inspired by panorama paintings. This large digital painting populated with thousands of 3D figures taken from the web explores new forms of moving image production using Unreal Engine powerful rendering graphics.
---
We would also like to thank the selection committee for their rigorous commitment Zú's community and the UNREAL Creative Showcase:
Nadine Gelly, Executive Director, QC Video Game Guild
Brigitte Monneau, Executive Director, Pôle Synthèse
Jenny Thibault, Executive Director, SAT (XN Quebec at the time of the call for projects)
Camille Cazin, Advisor, Community Development and Programming – Creative Hub, Zú