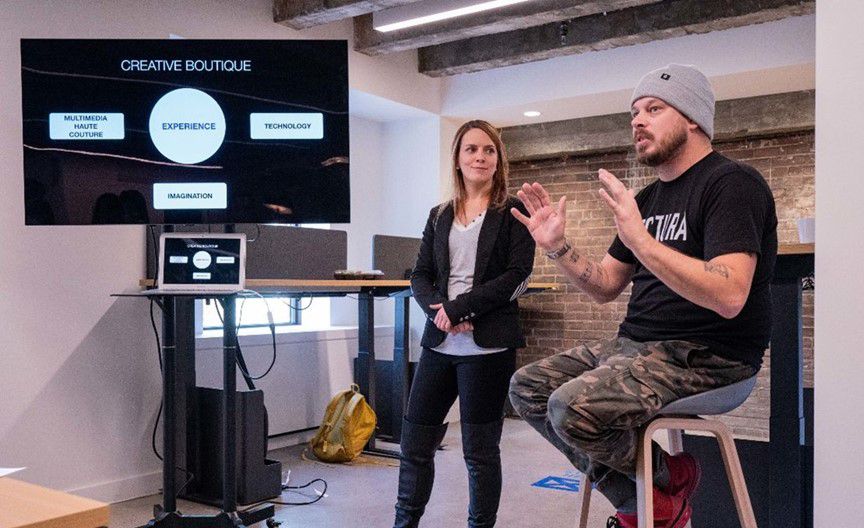 Multimedia studio Noctura is proud to be joining Zú, a collaborative space initiated by Guy Laliberté and aiming to power startups that reinvent the entertainment world. This milestone marks the beginning of a significant expansion for Noctura, and its integration to Montreal's ecosystem.
"Being part of Montreal's creative ecosystem is a must for Noctura," says Miriam Bard-Dumont, Noctura's president and CEO. "The city is renown internationally for its expertise in entertainment. With its strong network and relevant programs, Zú is an incredible opportunity to collaborate with Quebec's greatest creative industries, develop our original creations, and make them travel the world."
"Zú is excited to welcome Noctura in its community. This young studio has carved out a place of choice in the entertainment industry. Rich in creativity and drive, they genuinely fit with Zú's vision by defying conventions and reinventing the future of entertainment", said Guillaume Thérien, Executive Director at Zú.
Zú is a non-profit organization whose mission is to gather, help and promote creatives in the entertainment sector to develop world-class innovative projects. Zú supports them in their creative process and growth by facilitating access to the necessary resources for the development of new intellectual properties.
In an eclectic environment with state-of-the-art infrastructure, Zú rallies the community around a common goal: bring greater visibility to our creativity and share it with the world at large.
---
About Noctura
Noctura produces immersive experiences to surprise and amaze. Among our latest projects, one can find our original creations Furie la nuit, Elix, and Manege la nuit, as well as video projections for the musical Le phenix, and the exhibit 60 Years of Fashion.
Combining technology and performing arts, the studio creates original entertainment productions, as well as interactive environments, brand activations, and video projections. From immersive theatre to holographic 3D projections, the studio ignores conventions to create differently, from an artistic and technological perspective. For more info, visit noctura.ca.