Zú continues to roll out its new organization with two employees in its incubation and innovation department
· News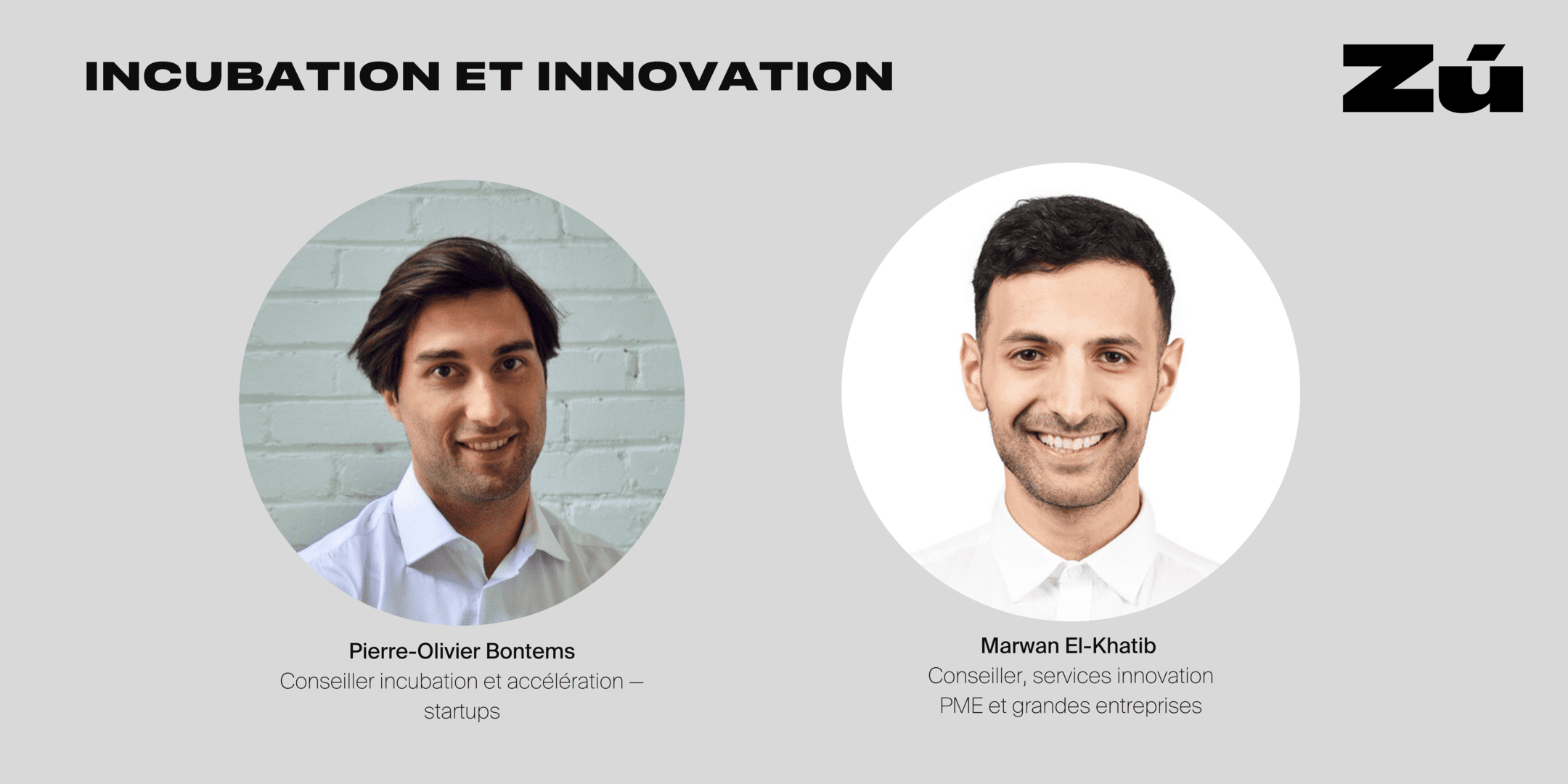 Montreal, March 21, 2022 – Zú continues the deployment of its organization and strengthens its Entrepreneurship and Innovation department with the arrival of a new resource and the creation of a new position to enrich its innovation department and continue the shift initiated last October under the leadership of the new General Manager Dimitri Gourdin.
Zú is proud to announce the hiring of Marwan El-Khatib and Pierre-Olivier Bontems. Their arrival will allow Zú to deepen its service offering and maximize the experience in its coaching programs for startups, in addition to increasing the possibilities of its open innovation services for SMEs and large companies. They join the team of consultants composed of Camille Cazin in charge of the creative hub and Véronique Levert, responsible for the TELUS 5G Lab, in collaboration with Lenovo.
Marwan El-Khatib will join the team as Advisor, SME and Large Enterprise Innovation Services. With a bachelor's degree in mechanical engineering, he has, in the past, helped set up a cleantech fund with the BDC and developed the digitalization strategy for Relief's activities through his company supporting the digital transformation of NPOs.
Pierre-Olivier Bontems will accompany our startups as an incubation and acceleration consultant. Pierre-Olivier is an engineer by training who was also a Canadian fencing champion. In 2017, he founded a startup offering education and training tools to the international sports community.
These two new employees join a team of specialists responsible for a unique creative hub in downtown Montreal bringing together state-of-the-art tools and studios, business hosting services, spaces for research and experimentation with the general public under one roof.
"The arrival of these two new resources allows us to complete a team that has only one goal in mind, to make every effort to allow our startups to obtain the necessary tools to create and develop their business model. I am very proud to add these two new resources and I am confident that these additions will allow us to better accompany companies in their needs and realities," says Jeanne Dorelli, Senior Director, Entrepreneurship and Innovation at Zú. "The enhancement of our service offering is a positive factor for the digital and creative industry and I am personally very proud to see Zú increase its impact and awareness in our ecosystem," she adds.
About Zú
Zú is a non-profit organization whose mission is to gather, help and promote creative entrepreneurs in the entertainment sector to develop world-class innovative projects. The organization supports entrepreneurs in their creative and growth process by facilitating access to the necessary resources for the development of new intellectual properties. In an eclectic environment with state-of-the-art infrastructure, Zú rallies a community that seeks to bring greater visibility to local creativity and to share it with the world.