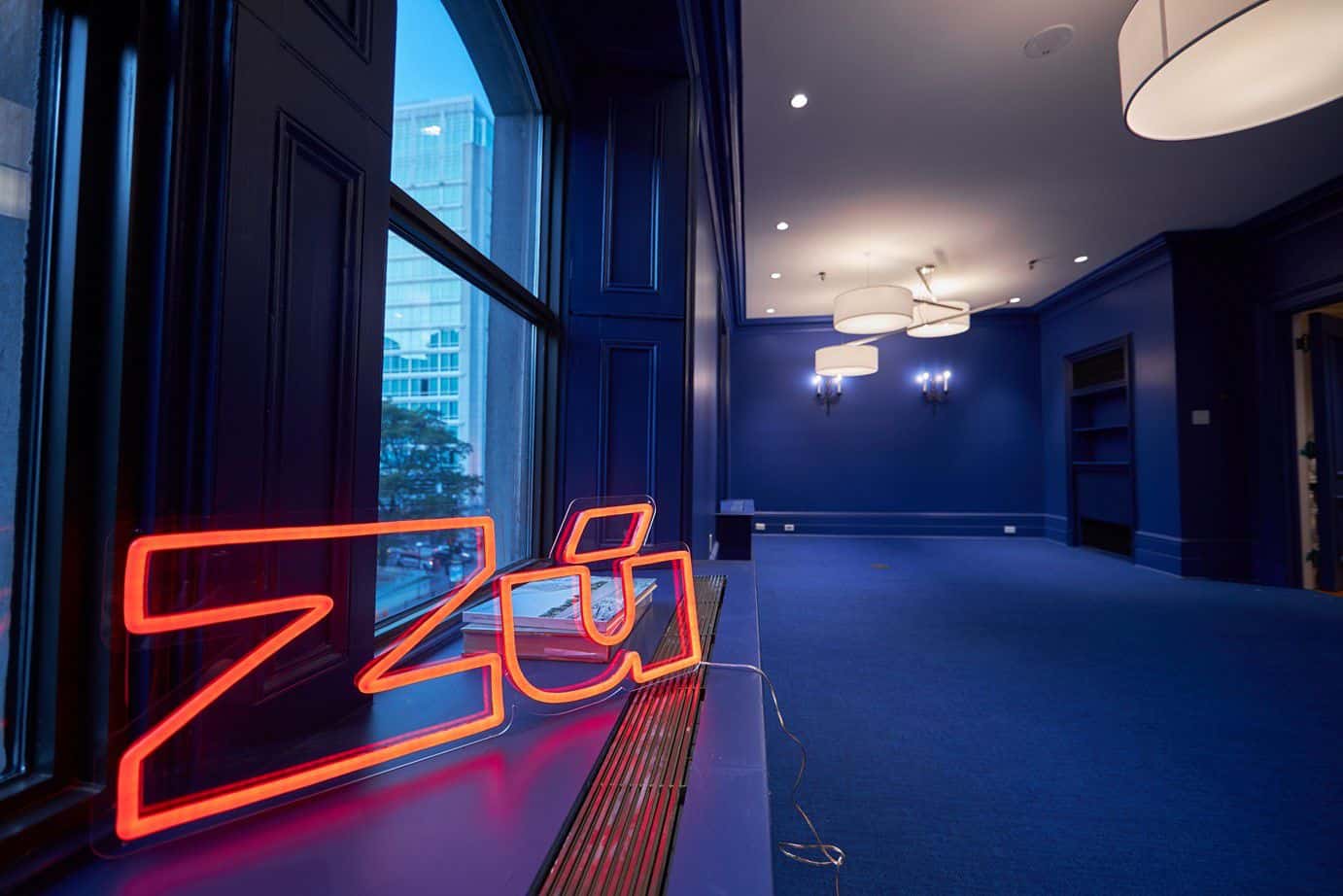 Montreal, September 20, 2019 – Zú is proud to announce the official opening of its offices located in an innovative space in the heart of Montreal. Zú's mission is to bring together, support and promote local creatives in the entertainment field. It is a non-profit organization launched by Guy Laliberté that supports young innovative companies (start-ups) through their creation and growth process by providing access to leading-edge technology and resources. This organization aims to create and market the intellectual property developed here, in order to keep it in Canada and spread innovative projects from Montreal worldwide.
Bringing creative entrepreneurs together in an exceptional setting
Zú will host, equip and drive start-ups at different stages in their projects, either as they explore a concept, bring an idea to life, define a business model or accelerate their growth. Located in a gem of a heritage building dating back to 1872, Zú is opening a new chapter in the rich history of the Maison Alcan Complex. By providing work spaces to independent workers who will be able to join the community and use, among other things, the first lab equipped with experimental 5G technology dedicated to creative industries – the TELUS 5G Lab in partnership with Lenovo – Zú will help position Montreal as an innovation hub and will participate in creating a cultural and creative focus in the heart of the city.
Cultivating, rethinking and redefining the art of entertainment
Zú will become both an economic development tool – notably through the creation of start-ups and through the specialized training of creative workforces – and a cultural development tool, in particular by leveraging technological innovation to develop art and entertainment.
To support this initiative the Government of Quebec has proudly provided $445,000 in financial assistance through Startup QuébecMD and the Fonds d'initiative et de rayonnement de la métropole. This support will enhance the creation and the growth of innovative start-ups.
"The Quebec government believes in the importance of promoting the creation of and growth of innovative start-ups. I welcome the opening of the non-profit organization Zú, which will highlight creativity and the culture of innovation, two of Quebec's great assets. I am convinced that the 300 entrepreneurs hosted each year will transform their projects into successful world-class businesses, contributing to stimulating Quebec's economy as they create high-level jobs," said Quebec Premier François Legault.
"Zú will play an active role in training, developing and retaining talent as well as attracting capital and showcasing intellectual property created here; one of my priorities to boost Quebec's economic prosperity. By investing in this project, the Government of Quebec is thinking big. It aims to help the Zú team turn Montreal into a creative content capital of the world designed with the help of artificial intelligence, 5G and new technologies, among other things," emphasized Minister of Economy and Innovation Pierre Fitzgibbon.
"Developing our creative and cultural companies in Montreal and abroad is one of our administration's leading commitments to supporting the economic growth of the city. Zú will allow young companies to better develop new markets and to access the best possible technological resources," stated Montreal Mayor Valérie Plante.
"This community of practice, set up in a magnificent heritage building downtown, is a project that reflects the sustainable economic and cultural development we want for our city," added Benoit Dorais, Chairman of Montreal's Executive Committee and Mayor of the Southwest borough.
"It is truly a joint project where the desire to share know-how and expertise with younger generations will continue to fuel our community. We have officially launched an invitation to entrepreneurs, creators, mentors, academics, digital specialists, experts, independent workers, free thinkers … our door is now wide open," added Guillaume Thérien, Managing Director at Zú.
Please click on this link to access Zú's complete press kit.
---
About Zú
Zú is a non-profit organization whose mission is to bring together, support and promote creative entrepreneurs in the entertainment field in order to generate innovative world-class projects. It supports them in the creative and growth processes by providing access to necessary resources in order to promote intellectual property developed in Quebec. In an eclectic environment providing state-of-the-art facilities, Zú is committed to bringing a community together who shares the desire to bring global visibility to our creativity. Zú is supported in part by the Government of Canada, the Government of Quebec and the City of Montreal.www.zumtl.com
Information:
Anne Dongois, Zú
514 826-2050
adongois@lunerouge.com
"GUIDED TOUR" OF ZU
THE FIRST PHASE OF A MAJOR PROJECT
AT A GLANCE
Zú is a place conducive to innovation, creativity and exquisite clashes between creators, entrepreneurs and mentors who are free from barriers and conventions, coming together to reinvent entertainment and bring global visibility to local talents.
Creativity is their strength and freedom is their driving force.
Zú is…
93 open-plan work stations in a private space.
5 creative-thinking, conference and meeting rooms.
Professional work stations to help creators with their entrepreneurial project. Local companies, rooted in the community, who have decided "to pay it forward."

Legal station: Norton Rose Fulbright
Artificial intelligence and new technology station: Stradigi AI

The first experimental 5G laboratory dedicated to creative industries in Canada, the TELUS 5G Lab, developed in partnership with LENOVO, is an experimental area equipped with state of the art technological equipment. 5G technology, exclusively available in the laboratory, allows users to push the boundaries of digital creativity and test the future of digital creativity using to two film editing and production rooms equipped with a ProTools station for sound editing as well as a production room for immersive content intended for virtual, augmented and mixed reality.
A podcast recording and editing station.
A complete range of photography equipment.
A team of guides and experts to support start-ups as they develop their projects.