XR/VR ROOM
The production room for immersive content: virtual, augmented or mixed reality is ideal for all your visual effects projects, video game, 3D animation and all those we haven't thought of yet.
In addition to the Unreal software and the Autodesk suite, the room is equipped with several Oculus, HTC and Playstation virtual reality headsets to allow you to test your applications and content on different equipment.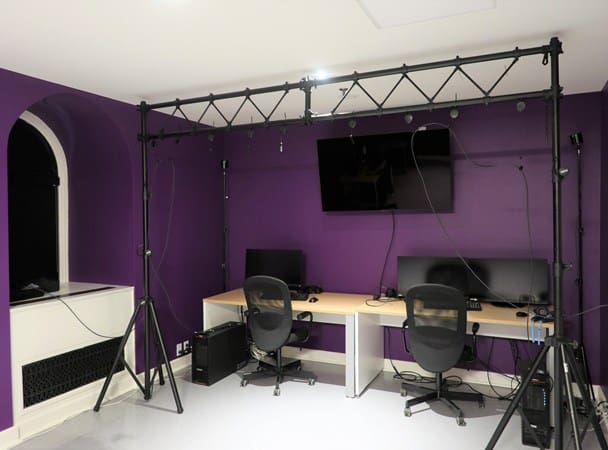 ---
PRICE
$500/day
$250/half day
---
HARDWARE FOR EACH OF THE 5 WORKSTATIONS
2 workstations Lenovo ThinkStation P920
3 workstations Lenovo ThinkStation P520
2 Intel Xeon Gold 6134 3.2GHz
96GB RAM
Hard drive 6TB
Graphic card GeForce RTX 2080 8GB
Windows 10 Pro 64 bit
Blackmagic DeckLink Studio 4K 6G-SDI
---
ACCESSORIES AND SOFTWARE FOR EACH WORKSTATION
Screen Lenovo ThinkVision 27'' 4K UHD
Headphones Audio-Technica ATH-M50x
Unreal
Adobe Creative Cloud
StellarX
Autodesk Media & Entertainment (Maya, Mudbox, etc)
Only available on 3 workstations
---
ACCESSORIES FOR VR/AR INCLUDED IN THE ROOM
(Full list available on demand)
Webcam Logitech BRIO 4K Ultra HD
Green screen de 9' x 13' avec support
11 VR/AR headsets: PlayStation®, HTC, Oculus Rift S,
Oculus Quest
Video camera Sony a7 III. Sony Lens 28-70mm. Tripod
Manfrotto Befree Live with fluid head. SD Card Lexar
Professional 2000 x 64GB SDXC UHS-II
PlayStation 4 1TB Pro
Test space of 12 feet long, 7 feet wide, 8 feet high.
For any questions, visit of the space or reservation, please contact us at zulab@zumtl.com
BOOK NOW
---
The 5G TELUS Lab in collaboration with Lenovo is a creative, testing and experimental space fitted with cutting-edge technological equipment to push the limits of digital creativity and bring your projects to life.
For the future of creativity