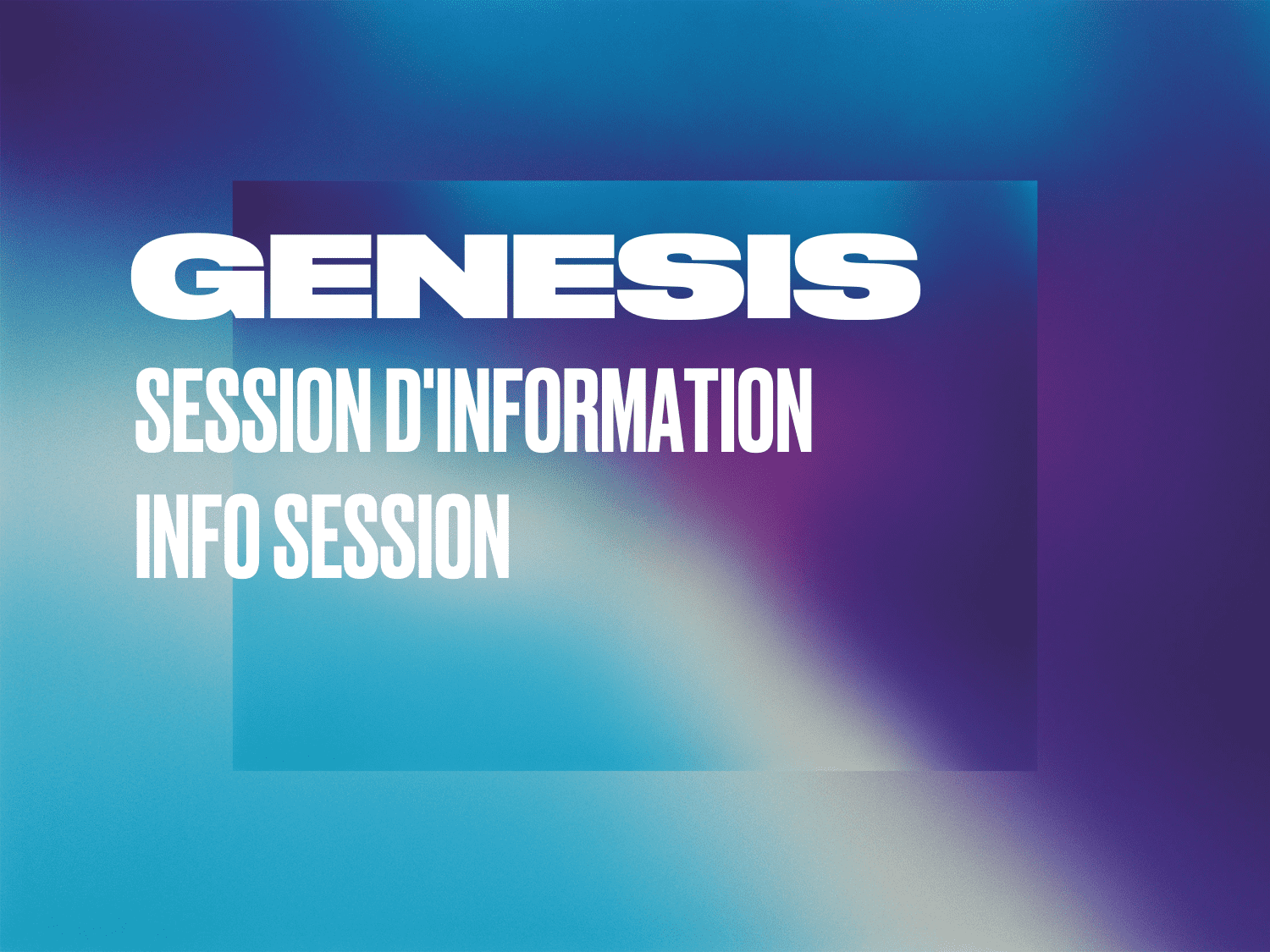 PROGRAMME GENESIS – SESSION D'INFORMATION VIRTUELLE
Le programme Genesis, c'est quoi? Nous répondons à toutes vos questions!

Zú lance une toute nouvelle cohorte du programme Genesis qui se déroulera en ligne du 7 mars au 29 avril 2022.
Vous lancez une nouvelle entreprise ou vous développez une nouvelle solution au sein d'une entreprise existante? Votre projet propose une technologie innovante et veut se tailler une place dans l'industrie du divertissement?
Genesis, c'est là où tout commence. Sur trois sprints itératifs — produit, marché et modèle d'affaires —, vous ferez évoluer votre projet de l'idée à la concrétisation durant 8 semaines.
En quoi consiste le programme Genesis? Nous répondrons à toutes ces questions lors de cette séance d'information.
Qu'est-ce que j'y gagne?

Quels sont les résultats attendus?

Quels sont les objectifs du programme?

À quoi ai-je accès lorsque je participe au programme?
Centré sur les méthodologies du design thinking et du lean startup, Genesis est un programme créé pour soutenir les projets en phase de démarrage. Zú vous accompagne afin de valider votre idée, la faire évoluer vers un concept et en faire un plan d'affaires.
Ayez tous les outils en main pour soumettre votre projet suite à cette séance d'information!
* Veuillez noter que le programme ainsi que la session d'information se donneront en français.
➤  Plus de détails sur le programme Genesis
➤  Appliquez dès maintenant! La date limite de dépôt des candidatures est le 28 janvier 2022.
---
Zú is launching a brand new cohort of the Genesis program that will run online from March 7 to April 29, 2022.
Are you launching a new company or developing a new solution within an existing company? Does your project propose an innovative technology and want to carve out a place in the entertainment industry?
Genesis is your launch pad. In three iterative sprints – product, market and business model – you will take your project from idea to reality over 8 weeks.
What is the Genesis program? We will answer all these questions at this information session.
What's in it for me?

What are the expected results?

What are the objectives of the program?

What do I get when I participate in the program?
Centered on design thinking and lean startup methodologies, Genesis is a program created to support startup projects. Zú will work with you to validate your idea, develop it into a concept and define your business plan.
Have all the tools in hand to submit your project following this information session!
* Please note that the program and the information session will be given in French.
➤ More details about the Genesis program
➤ Apply now! You have until January 28 2022 to submit your project.