A VIBRANT COMMUNITY TO WEATHER THE STORM
· News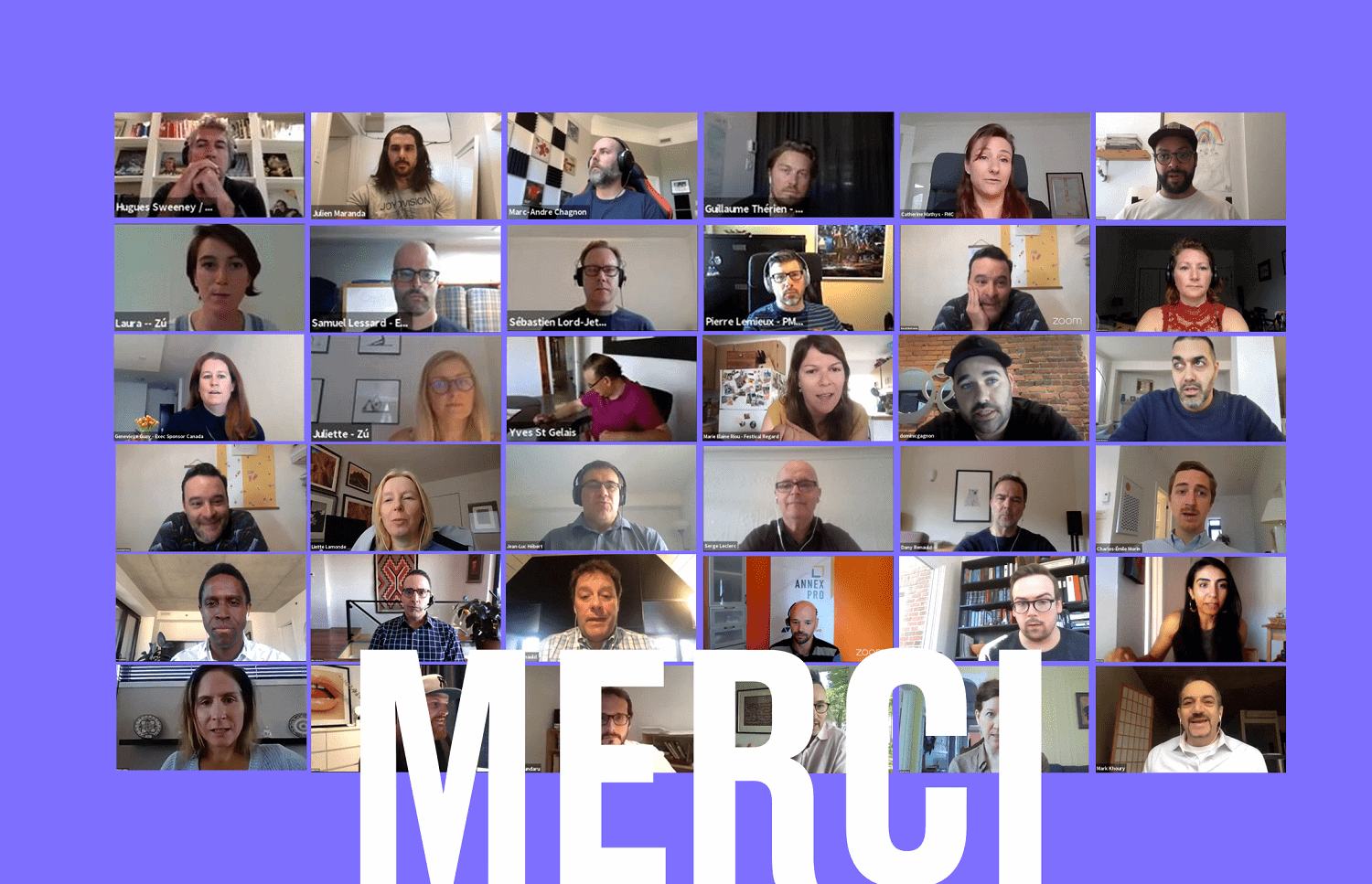 Since March 24th, you have been more than 1,300 to take part in our 28 webinars and online workshops. Thank you for attending despite the circumstances. Thank you for diving into a 100% virtual and free programming with us.
You were inspired by the experiences of creative entrepreneurs through the A parte series. You have perfected your key entrepreneurial skills with experts in the (In) fusion series. You have tackled the challenges of the COVID-19 crisis under different themes thanks to the Horizon series. Well done for keeping the flame of Quebec's culture, digital, entertainment and technology burning, vibrant and passionate during this most uncertain period.
We saw you in your cars, with your fridge in the background, working from the corner of a desk and with a child on your knees. Above all, we saw your resilience, your minds bursting without obstacles, even when confined. Today, more than ever, we are incredibly proud of this community of entrepreneurs who are driven by the power of original and creative thinking. Thank you for being so many to have turned on your laptop cameras and keep this ecosystem abuzz, to have constantly shared ideas, collaborate on projects and trigger ingenious ideas and business opportunities.
All of these dates would not have been possible without the involvement, expertise and contagious passion of many speakers, panelists and partners.
A huge thank you to Annex Pro, Banque Nationale, Black Tiger Sex Machine (Kannibalen Records), Bonjour Startup, BRP, Centre IAM, Connect&GO, Dentsu X, Edelman, EY, Festival REGARD, Fonds des médias du Canada, LNDMRK, Multicolore (Piknic Électronik / Igloofest), Norton Rose Fulbright, Panache Ventures, Pilote Groupe Conseil, PivoHub, PixMob, Saimen, Synapse C, Synopsis Marketing, TELUS andUlule.
Support the recovery
The recent challenges have not shaken the innovative potential of entrepreneurs. To support the recovery of the creative industries, Zú offers free access until August 14 to its new creative tools, hosted in the 5G TELUS Lab in collaboration with Lenovo and in the podcast studio.
Take this opportunity to come and test your ideas, experiment cutting-edge technological equipment and bring your projects to life.
Find out more.