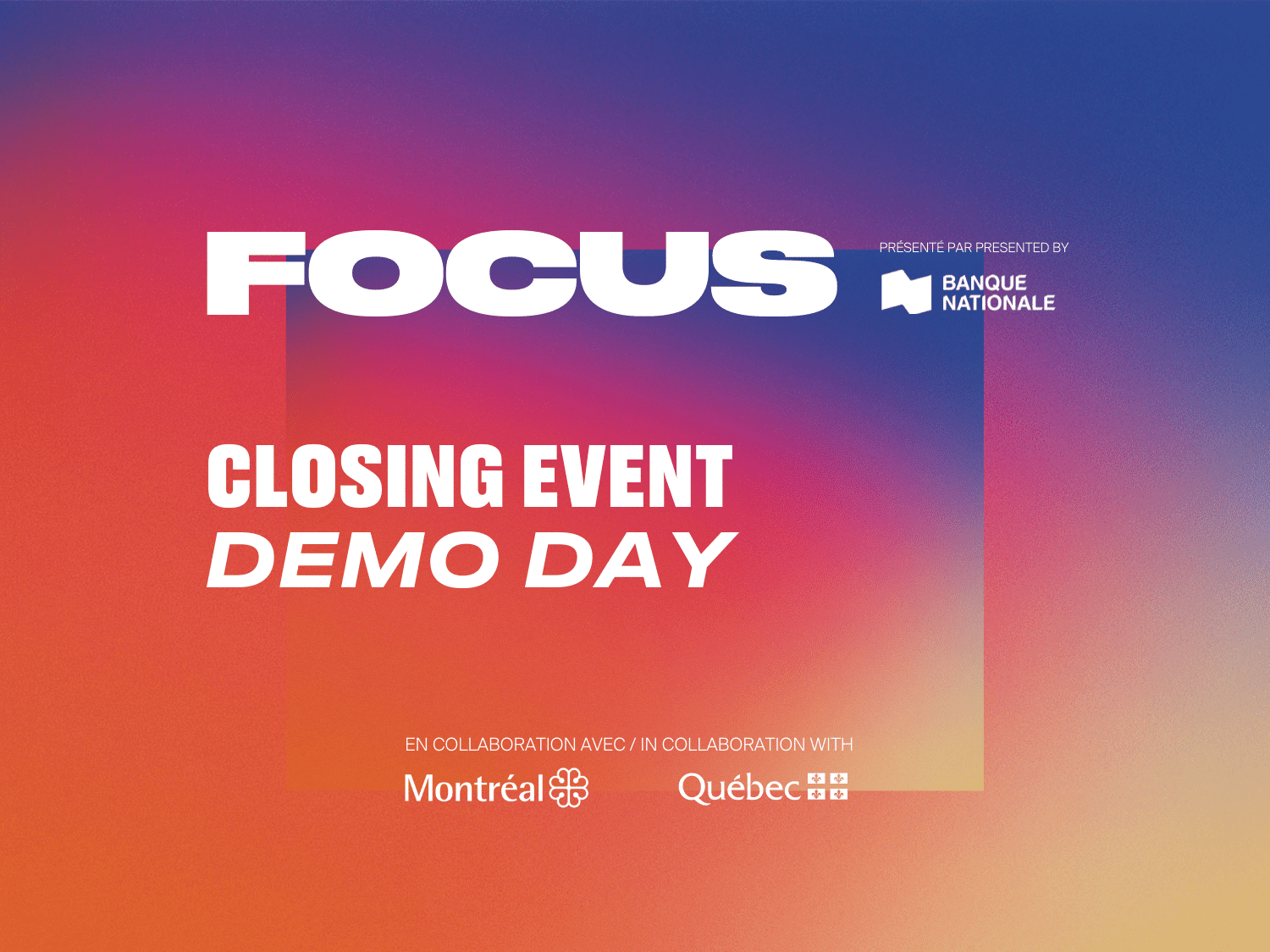 Last week was the Demo Day for the latest cohort of the FOCUS program presented by National Bank.
More than 150 people came together to celebrate the creative strength of our new alumni and learn more about their projects. The Zú team joined their forces to offer a 100% virtual event respecting the COVID-19 rules that are in place, while highlighting the innovative solutions developed by the startups. For the entire Zú team, this event is a proof that 2022 will be full of promising initiatives.
Focused on mentoring, the FOCUS program allowed our alumni, 4elements, axle ai, Bump, Orangead, Phenomena, Quaze Technologies and Tokidos to expand their knowledge, better structure their core needs and prepare themselves for a pre-seed round.
The FOCUS program is a 10 weeks of peer-to-peer workshops, including weekly meetings with exceptional mentors, consultations with experts who know their field inside and out, and meetings with companies who are passionate about innovation and looking for new solutions.
We would like to congratulate all of the entrepreneurs who worked hard for 10 weeks to refine, modify and mature their business projects. You have inspired us, but most of all you have impressed us with your passion and commitment.
Some highlights
During the Focus program, Orangead began the development of a pilot project in collaboration with the Canadian E-Fest for Formula E in Vancouver.
aixle ai passed  the 1 million mark in sales for the first time.
Tokidos completes the second iteration of its product which will soon be ready for commercialization.

Bump 

entered into a strategic partnership with Mastercard to better support creators.

Phenomena 

has successfully developed a potential sales pipeline of over 2 million. 

 

4elements has secured a contract with Netflix for its interactive games platform.
Quaze develops and integrates wireless technology, which is a first at Zú!
Here's your chance to get to know them :
| | | |
| --- | --- | --- |
| 4ELEMENTS | | |
| | | 4elements break the barriers between video gaming and entertainment. Making the visitor active is what 4elements strives for. They create interactive multimedia shows where participants have a role to play and where their action will determine the course of their story, making them the hero of the adventure. |
AXLE AI
axle ai helps creative teams remotely manage and search their media files. Its software helps organizations improve the way they create, share and store digital video content with media management solutions that are easy to install, use and afford.

axle's radically simple media management uniquely addresses a burgeoning need and is already used by hundreds of creative teams worldwide.
BUMP BY OWNORS
Bump helps 50 million creator businesses get paid by leveraging artificial intelligence to track and collect all of their revenue sources from streaming services fast and predictably, and by providing them with micro-advances to cover payout gaps and to increase their revenue.

 
| | | |
| --- | --- | --- |
| ORANGEAD | | |
| | | Orangead is a Montreal-based technology company leveraging advanced AI technology/techniques on a network of video terminals and sensors in various public and private venues. The OA platform connects advertisers with digital out-of-home systems, all while maintaining strict green data privacy standards and cutting-edge business intelligence tools. |
PHENOMENA
Phenomena develops the VR eSport Arena, a new virtual sport for the Fortnite generation that drives replayability and competitive gameplay in location-based entertainment through VR and esports.

 

  
QUAZE TECHNOLOGIES
Quaze disrupts the way gamers will power their gaming set up by providing wireless power to any device, at the same time, anywhere on tables, and through any kind of surface. Quaze proposes its solution for every device, from the mouse to the cellphone, monitor, computer, etc.

 
TOKIDOS

Tokidos builds learn-and-play systems that adapt to our children's interests, instead of fit to a standard. They are currently developing an educational game console for children ages 3-7 that helps them develop cognitive skills such as language, music, and problem-solving using AI.

 
Zú is an ecosystem where everyone has a place. The Focus program would not be possible without the involvement of our community of entrepreneurs, mentors, experts and members of the selection committee who are committed to supporting the next generation. In fact, the Zú team would like to thank, on behalf of itself and its initiator, Guy Laliberté, all the expert partners, guides and members of the start-up and creative industry who have contributed to the program's success.
It is thanks to you that we are able to propel creative people from here and elsewhere, to accompany the most avant-garde entrepreneurs to not only reinvent the world of entertainment, but also to apply their ideas and vision to other spheres of society both here and internationally.  
SELECTION COMMITTEE

Behnaz Fard – Panasonic, Business Manager, Media & Entertainment Business Division

Robert Hoffmann – Lenovo, Senior Worldwide Industry Manager, Media & Entertainment

Dominic Gagnon – Connect&GO, Co-Founder & CEO

Karine Thibert – Banque Nationale du Canada, Senior Director Business Services

Kim Powell – Motorola,

Marketing Lead, Canada

Afsoon Soudi – CBC, Senior Manager, Data Science and Machine Learning

Andrei Uglar – SmartReno, Founder

Bertrand Nepveu, Technopreneur, Engineer and Investor

Martin Dagneau,Management Specialist – Former COO – CRO

Ernest Yale – Triotech, President, CEO and Founder

Maude Bédard-Dufour – Zú, Director, Strategic Partnerships and Development

Patrick D'Astous – EY, Partner

Jean-Philippe Taillon – Investissement Québec, Investment Manager, VC Funds
GUIDES

4elements

Lotfi El-Ghandouri – Creative Society – CEO

Lori Jordan – Blink Journals – Founder

André Lavigne – KM&T – Founder and Chief Advisor

Orangead

Martin Dagneau – COO/CRO – Management Specialist

Patrick Préfontaine – Propel Venture Management

Mark Tobin – Investor and Advisor

Tokidos

Gilles Labranche – FICC – Investments Director 

Catherine Laporte – Lowe's – Vice President Marketing

Bertrand Nepveu – Technopreneur, Technopreneur, Engineer and Investor

axle ai

Fauve Altman – Blockchain & Crypto – Advisor

Brendan Handler – 8616 Productions – Managing Partner and Founder

Elisabeth Laett – Holt Accelerator – Main partner

Phenomena

Alexandre Cyr – Microsoft – Enterprise Channel Manager 

Julie Lacasse – TrackTik – Co-Founder, Corporate Director and Board Member & Business Mentor 

Andrei Uglar – SmartReno – Founder

Bump by Ownors

David Dufresne – Advisor and Investor

Brandon Pankey – Live Nation Urban – Live Nation Urban – Vice President Business Development & Operations

Delphine Poux – Murmur – Partner

Quaze Technologies

Nathalie Esain – Stratébioz – Coach & Consultant in experiential and content strategy 

Jean-Luc Hébert – Business Development Executive

Richard Laberge – D-Box – VP Gaming and Technology Partnerships
EXPERTS

Eric Durand, Banque Nationale

Marco Daniel Nicolescu, Banque Nationale

Carolyn Allain, Banque Nationale

Karine Thibert, Banque Nationale

Nassim Benacer, EY

Ash Phillips, Six Cinquième

Miro LaFlaga, Six Cinquième

Josée Turcot, Banque Nationale

Otman Eloued Ghirielidrissi, Banque Nationale

Nima Taghvai, Banque Nationale

Edgar Groom, Banque Nationale

Pascal Pelletier, Productions Figure 55 inc.

Marie-Chantal Ménard, Senior Advisor

Mathieu Deschamps, Norton Rose Fulbright

Bianca Pietracupa, Norton Rose Fulbright

Rob Hoffman, Lenovo

Véronique Levert, Zú

Renaud Lavoie, Senior Advisor

Maude Bédard-Dufour, Zú