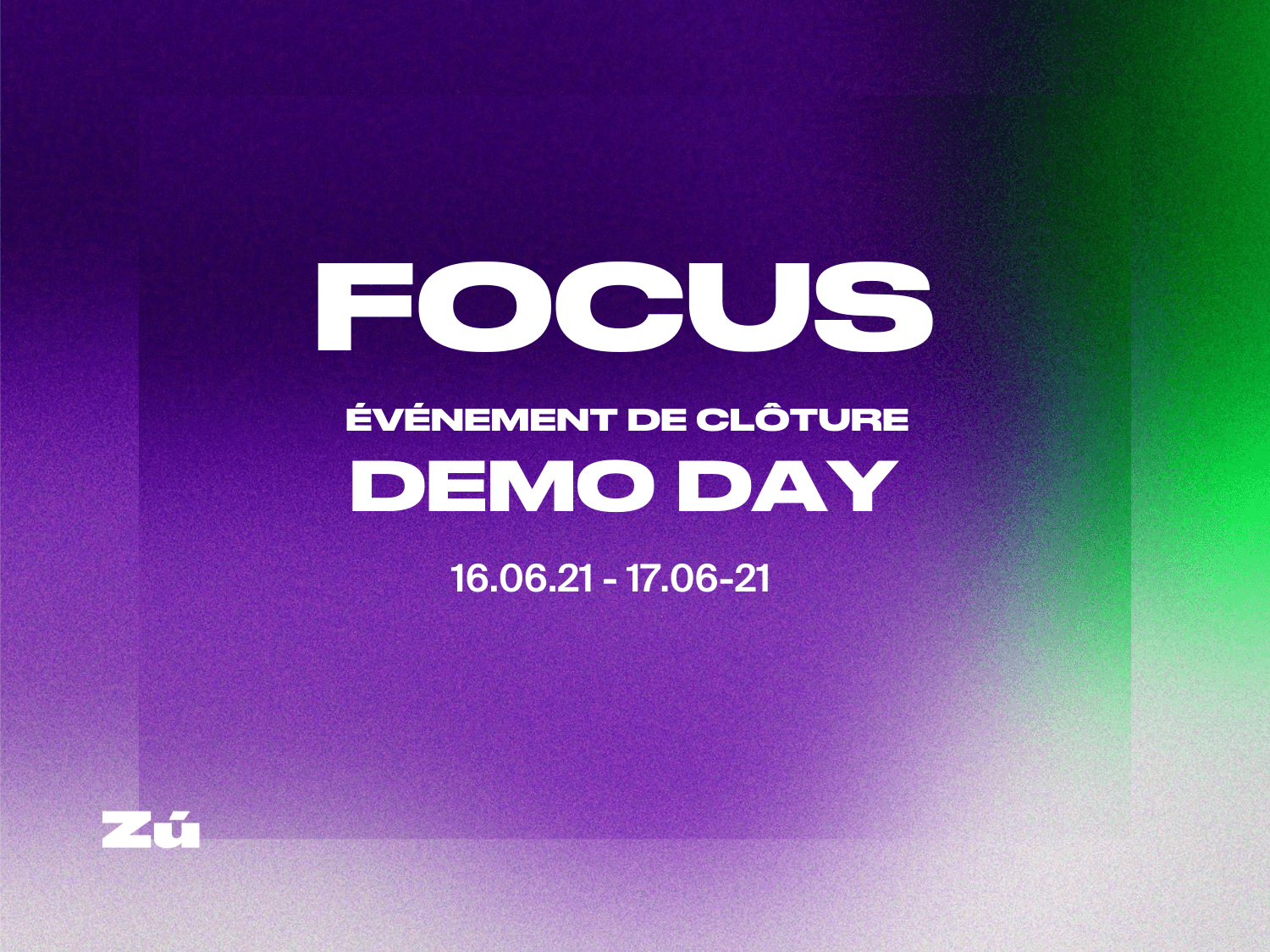 After 12 weeks of intensive work, 9 startups are graduating from the Focus Program and are ready to revolutionize the entertainement and technology industry.
On June 16th and 17th, Zú had the pleasure of presenting these ambitious entrepreneurs during a colorful virtual closing event hosted by Arman Afkhami, in collaboration with the intergalactic musical duo Mugzy & Maam. Under the themes of music, immersive experiences, lifestyle and creative tools, the startups presented their achievements in front of over 300 experts, investors and partners.
Congratulations to Audio Design Desk, BeatConnect, Haply Robotics, Iregular, Make Some Noise, Naostage, Tastet, Tripura, ViVid Memory. Your creative strength and entrepreneurial spirit will make you key players in rethinking and redefining the future of entertainment.
We would also like to extend a warm thank you to all the guides, mentors and experts who accompanied the companies through this adventure, and to all our precious partners, without whom none of this would be possible!
Would you like to meet one of the startups? Contact us at  programmes@zumtl.com.  
Discover the startups and watch their pitches!
Audio Design Desk
2020 NAB Best Of Show winner Audio Design Desk is a professional software suite that reinvents how users create with audio by introducing an assistive AI called Sonic Intelligence™. Used on Netflix, HBOMax, Amazon Prime and others, Musicians, Filmmakers, Podcasters and Creators of all stripes can use our technology to create beats, songs, meditations, social media posts or all the sound to a feature film in real time and they can share their creations all around the world using our ecosystem.
>Watch their pitch 

BeatConnect
BeatConnect connects musicians and producers in an innovative shared environment that allow for real-time collaboration, regardless of your instruments and tools.
>Watch their pitch

Haply Robotics
Haply's VR Controller integrates our cutting haptic technology to make the VR gaming experience much more exciting. Better haptic-enabled recoil, better user ergonomics, easy to map in most first-person shooter games, and designed for scale. A better VR gun for arcade owners and for VR gamers around the world.
>Watch their pitch

Iregular
Studio Iregular is a new media studio creating world-wide interactive sculptures, immersive spaces, and architectural interventions. CURSOR is a technology that can transform any media façade into an engaging, expressive, multi-user interactive display. More specifically, it is a tracking, content display and management system that generates large-scale interactive experiences permitting the simultaneous participation of 50 people.
>Watch their pitch

Make Some Noise
Make Some Noise specializes in immersive experiences. Founded by Gen Cleary, Creative Director and Producer of the world's most immersive and innovative live theatrical shows.
>Watch their pitch

Naostage
Naostage offers the 1st tracking solution that is 100% automated and beaconless. The system detects, tracks and identifies in real time all performers and objects thanks to a single sensor hung above the scene. Naostage reintroduces meaning to stage performance by reconnecting the artist and the human being to the enormous potential of today's audiovisual techniques and technologies.
>Watch their pitch

Tastet
Tastet is THE interactive platform to the best local eats and drinks in Quebec with 2.5 million unique visitors, 10 million page views and 35 million social interactions each year. Since March 2020, Tastet has been working to create a hyper-personalized recommendation platform to help you discover the best gourmet local addresses for your tastes and budgets – wherever you go. We want to become the Tinder of the restaurant business, but only if your dates are always fun!
>Watch their pitch 

Tripura
Meet TRIPURA, the world's first intelligent virtual breathing guide created to spread the benefits of pulmonary rehabilitation with personalized breathing exercises. A mobile application expanding into an interactive hologram brought to life in AR and powered by AI, Tripura's techniques are proven to increase energy, concentration, physical performance and relaxation.
>Watch their pitch 

Studio Vivid Memory
Vivid Memory Studio is reshaping the album format experience by developing and distributing interactive virtual music worlds. VMS created a new music format that enables music artists to transpose their artistic vision and tell a story to their fans by blurring the line between music video and video game. Vivid Memory Studio is transcending music stories!
>Watch their pitch