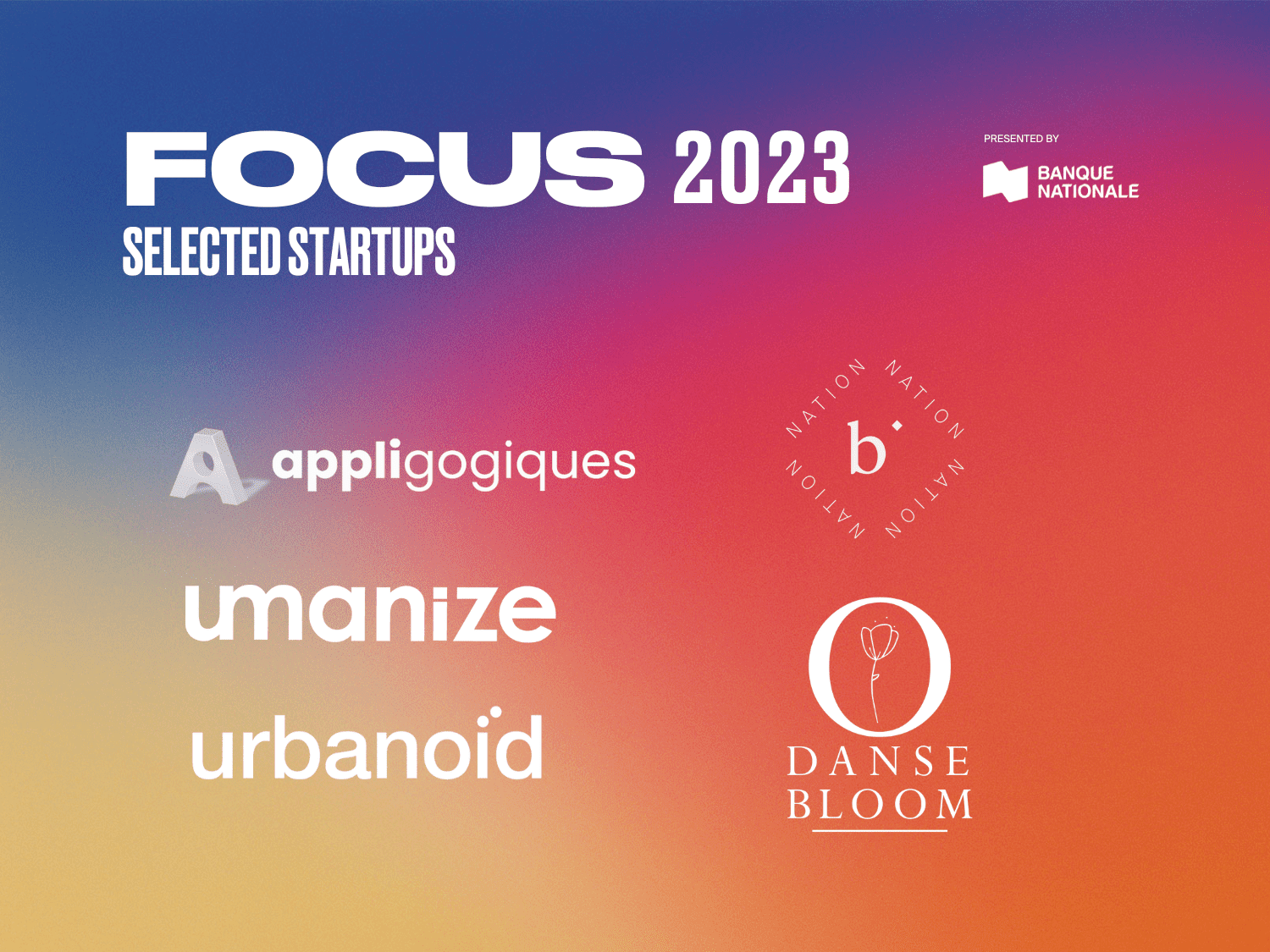 Zú is proud to announce the 5 companies that will participate in the FOCUS 2023 accelerator program from February 9th to May 17th. Presented by the National Bank, the 5th edition of the program, focused on personalized mentoring, will allow this selection of innovative companies and teams of passionate entrepreneurs to benefit from the knowledge necessary to realize their growth and commercialization strategy.
"Accelerating digital transformation is more important than ever for a large portion of Quebec organizations, across all sectors. The technologies developed by the selected startups respond to specific and urgent market needs. The solutions they offer are concrete and easily accessible sources of innovation, allowing their future customers to add a high-quality technological ally to their digital strategy. At Zú, we are proud to contribute to the development and growth of companies of this caliber and to enable the creative industries to become synonymous with innovation. "Jeanne Dorelli, Senior Director, Entrepreneurship and Innovation, Zú
The 5 companies will benefit from 15 weeks of personalized support, including the support of 3 mentors based on the MIT Venture Mentoring Service (MIT-VMS) methodology and a network of experts who will develop their entrepreneurial skills through a series of workshops, mentoring sessions and pitch clinics. At the end of this acceleration program, the entrepreneurs will continue to benefit from these services for a total of 12 months at a slower pace, but necessary to support their long-term growth.
"As a major partner of Zú, we are at the forefront of the creative and innovative wealth we have to offer young shoots, and the FOCUS program allows us to accompany these 5 companies in the next stages of their development. It is an honor for our team at the Creative Industries Group, which celebrates its 25th anniversary this year, to support the companies incubated at Zú and to build solid bonds of trust with the next generation of entrepreneurs" – Brigitte Leblanc – Vice President and Partner Creative Industries Group Canada and National Bank International.
In addition to the support of a National Bank advisor throughout the program, companies also benefit from several hours of consultations with expert partners, including KPMG in Quebec, Norton Rose Fulbright and the Sword Group, to help them achieve their goals.
Congratulations to the following projects:
Appligogiques – Educational video games for language learning
b nation – Platform for Brands and Marketing Agencies
Danse Bloom – Dance Ecosystem Platform
Umanize Technologies – Interactive workspace platform
Urbanoid – Responsible advertising
Discover their solutions!
Appligogiques creates and distributes pedagogical video games that help preschool and elementary school children overcome their language learning difficulties through fun. Their educational tools are designed by speech therapy experts and are translated into French, English and Spanish to meet the needs of families and education professionals around the world.
b nation is a platform that makes it easy for marketing agencies to run influencer campaigns. It connects brands and agencies with engaging nano-influencers (10k followers and less), that creates authentic content. It helps finding the right influencers effortlessly and getting real-time campaign results to share with stakeholders.
Danse Bloom is a platform that connects the dance ecosystem on the international stage. This professional tool allows creators to target and develop their niche audience, while contributing to the natural monetization of their art.
Umanize develops a virtual and interactive ecosystem for workspaces, events and online training that help organizations achieve strong engagement from their audience, through an immersive, intuitive and human-centered user experience.
Aimed at advertisers, Urbanoid's solution enables targeted advertising to be placed while respecting privacy. Spatial, event and commercial variables provide an intelligent score to show the best product in the best place at the best time.
Thank you to the members of the selection committee:
Annie Gérin – Dean of the Faculty of Fine Arts, Concordia University
Bertrand Nepveu – Founding Partner, Triptyq
Jeanne Dorelli – Senior Director, Entrepreneurship and Innovation, Zú
Luc Brousseau – Leader, Ignition Center and Leader Quebec, Retail Industry, KPMG
Maude Pariseau – Director, Strategic Initiatives, BDC
Mathieu Deschamps – Partner, Norton Rose Fulbright Canada
Nima Taghvai – Director, Business Services – Creative Industries Group, National Bank of Canada
Sophie Couture – Executive Director, Xn Québec
Zú is supported by the Ministry of Economy, Innovation and Energy (MEIE).