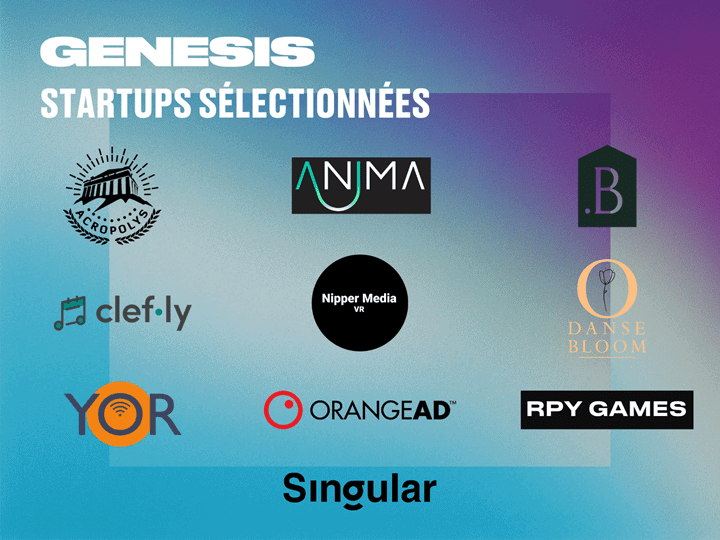 It is from nearly 55 high-quality submissions that 10 companies have been selected to join this 8-week tailor-made ideation program.
With the theme Work. Play. From anywhere. the Genesis Program presented by The National Bank is looking for innovative solutions that transform our digital space into a thrilling trove of possibilities. Projects that rely on the powerful potential of new technologies to create, work and entertain wherever we are, with the freedom to roam and be mobile.
The Genesis program that is launching this week will allow them to test and develop their project in anticipation of meeting potential clients.
From music, digital entertainment, performing arts, media and video games industries, they represent all the creative diversity that resonates from Montreal to Vancouver.
Discover them now!
Acropolys – HITstory
The HITstory app described as "the new Tinder of urban music" is a collaboration platform that allows music fans to discover talented artists and match them with instrumental compositions.
Anima-AI
Anima-AI is a software company that specializes in music-generating AI. Their patented AI allows users to generate their exclusive music with a simple click. The Emuji or musical emoticon is the first product to utilize this technology, instantaneously converting users' texts into songs – essentially making everyone a music maker.
Bajouk Signature
Bajouk Signature wants to set up an interface to analyze and monitor in real time the emotions of participants in a virtual or hybrid event.
Clefly
Clefly is an online gig-organizer and marketplace providing musicians with tools and connections to sustain meaningful careers. The platform streamlines artists' admin work and equips them with an online presence to book gigs instantly, independently, and transparently.
Come with me
Come With Me is a virtual reality experience project dedicated to people with reduced mobility in residential and long-term care centres (CHSLDs) and affiliated structures. The objective of these experiences is to offer an adapted, stimulating and authentic immersion in places that are inaccessible to this audience.
Danse Bloom
Danse Bloom supports the digitalization and monetization of the dance ecosystem through their mobile application. Bloomies can create a dance portfolio, sell their short films to monetize their art, and explore the resources and opportunities in their community.
Lulu Brenner – YOR
YOR is a digital platform for events that aims to offer the experiential richness of a real festival. It offers a main stream/performance, complemented by smaller synchronized events, as well as things to explore, discover, and socially engage.
Orangead Media Inc
Orangead offers digital signage, advertising placement and business intelligence products and services. The whole is connected to a transactional platform, which allows instant exchanges between advertising content and a digital signage network. Ad sales follow a real-view bidding system, powered by IA sensors that respect your personal data.
RPY Games
RPY games wants to create a platform that will facilitate the development of augmented reality games for recreational drones.
Singular Agency
Singular is an instant booking platform for the entertainment industry. It provides artists with all the tools they need to organize their own tour, without intermediaries.