New Genesis program cohort : Discover the 8 startups selected
· News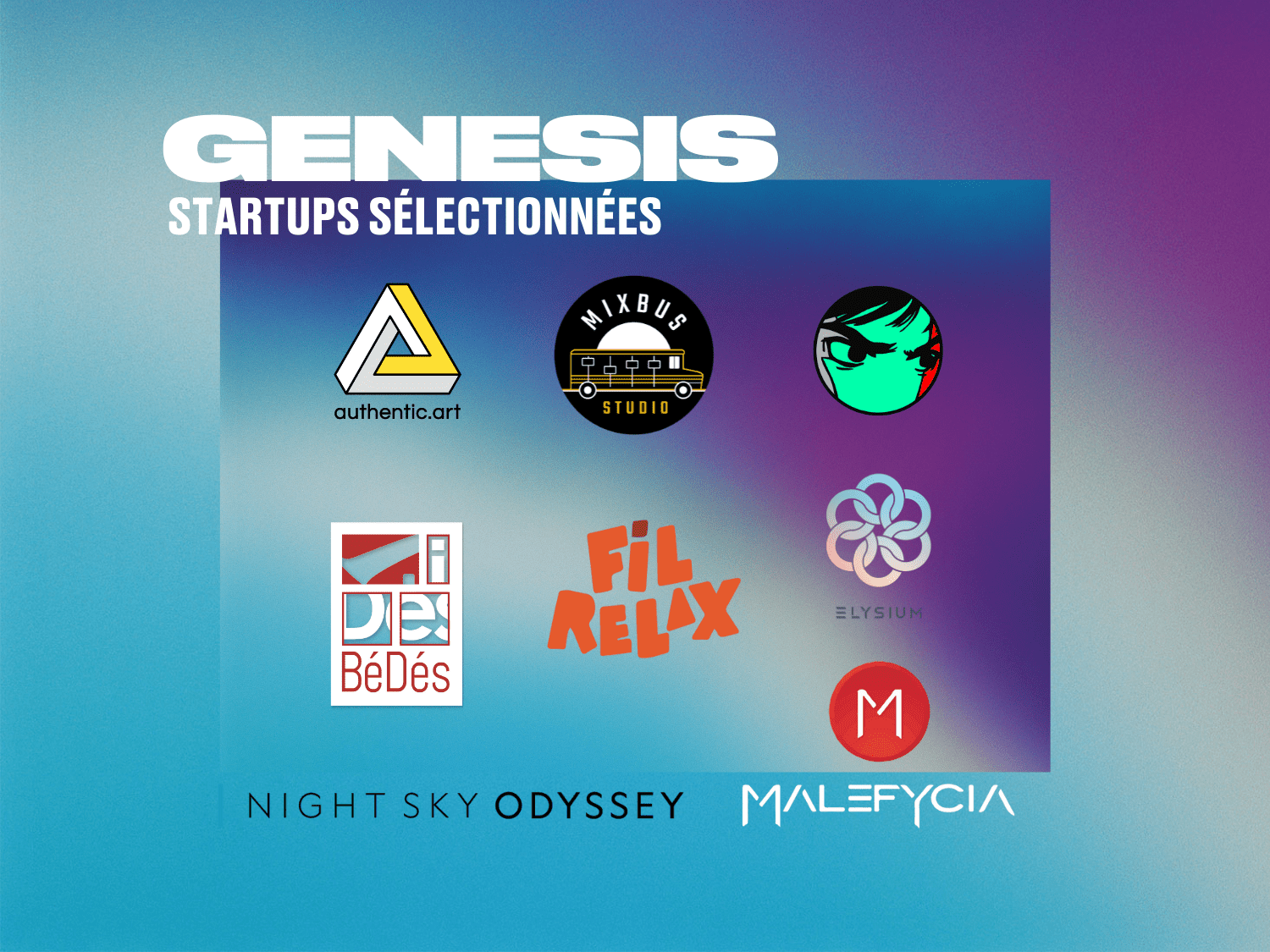 Genesis – Discover the 8 selected startups
Selected from nearly 40 high-quality applications, the 8 companies we've chosen are about to begin a customized ideation program to take their project from a simple idea to reality in a program that will evolve over 8 weeks.
The Genesis program, where it all begins, supports technological projects that focus on innovative solutions to transform the digital space we inhabit into a real playground.
This program will allow them to test their concept and evolve it to meet potential customers.
Coming from the music, digital entertainment, performing arts, media and video game industries, they represent the creative diversity that resonates in Quebec.
Without further ado, discover the new cohort of the Genesis program.
authentic.art
authentic.art is an inventory management and transaction platform effectively reducing the amount of time spent on administrative tasks for all involved with visual arts. We automate tedious tasks associated with artworks management by leveraging the power of blockchain and machine learning technologies, allowing users to spend more time creating, presenting and promoting art.
ELYSIUM
Powered by presence. Driven by creativity. Design meaning.
Unleash the deep storytelling potential of augmented reality (AR) through an innovative creative toolkit and spatial interaction ecosystem. ELYSIUM is a new landscape for creating engaging XR experiences: it is a fully integrated, no-code, cloud-platform for geo-located and persistent AR world-building ad infinitum. Build and own your metaverse: ELYSIUM democratizes a new dimension for the spatial web.
Ides BéDés Inc.
IDes Comics will be a true platform for digital graphic novels. This service will push the medium forward by providing graphic novels publishers and creators with web native tools, allowing their stories to reach audiences around the world, regardless of device, geography, language or reading ability.
Fil Relax
From the screen to our hands. Combining digital and the beauty of craft to accompany self-expression. Re-imagine embroidery as a new artistic language. Fil relax offers a unique experience to young people through an original web platform and personalized embroidery kits.
Les Productions Malefycia
Malefycia is the most immersive experience in North America and by far the most prized for its ability to deliver unexpected feelings. Their shows mix a quality of theme-based decor and scripting reserved for an 18 years and older audience. An ideal cocktail between immersion and interaction to create anxiety-provoking experiences.
Mixbus Studio
Studio captures the essence of major cultural events by creating 360 concert archives rooted in the location of the performances. In a lasting promotional vision, these 360 landmarks allow you to experience the festivals of Quebec in a unique way while discovering the artists who captivate the province.
Night Sky Odyssey
>Using immersive augmented reality, inspiring narration and soundtrack, Night Sky Odyssey takes spectators through a mythical voyage of our night sky, from our ancestors to today's space exploration.
Studio Kochina
Tantum Inventa is an action-adventure RPG game developed by Studio Kochina. Set in 2075, inspired by indigenous mythologies, follow Wenai and her companion, Little Coyote, and discover a new civilization from an unknown city. Through their journey, the duo will have to fight horrific creatures and discover what happened to this once mighty empire.