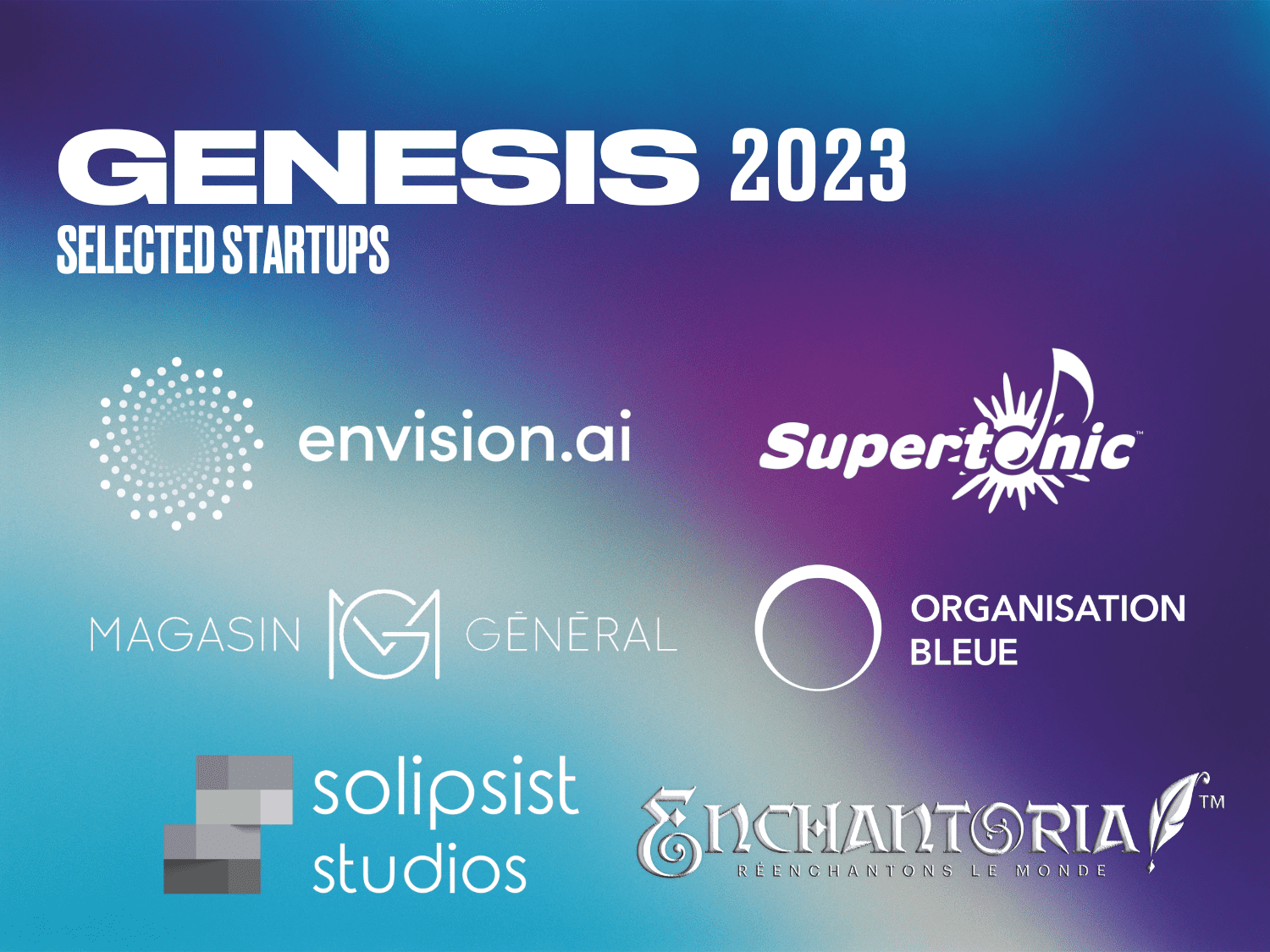 Genesis 2023 – Discover the 7 selected startups. 
In a 18-week program, the 7 companies selected from nearly 40 applications will see their project evolve from an idea to a concrete business project through a series of workshops with their peers. 
Genesis is a pre-incubation program based on Design Thinking and Lean Startup methods. It aims to help technological and innovative projects in the creative industries and transform their digital universe into dynamic and impactful solutions. 
Through these 18 weeks of collaborative workshops, startups will be led to validate their product, market, and business model, which will give them the opportunity to explore and refine their idea in order to increase their chances of success and become major players in the digital transformation of our society. 
Without further ado, here are the highly anticipated 2023 cohort of the Genesis program: 
Supertonic

Supertonic

Entertainment Inc. is an entertainment company that creates interactive musical shows. In their

events

, up to 1000 participants gather in a concert hall and use a musical device called

SonicTuner

to actively

participate

in the action by following instructions displayed on the stage screens and animations by the performers.

 
Enchantoria

Enchantoria

offers interactive adventures accessible through cards connected to digital content powered by artificial intelligence.

Their

immersive entertainment universe is a magical world where the power of imagination is used as a vehicle to develop self-esteem

in

children

aged

6

to

11.
Envision.ai
Envision.ai develops an artificial intelligence platform that automatically understands video contents without prior knowledge of the videos. Offered as a SaaS (software-as-a-service) and is accessible online using any browser, our solution automatically generates a complete metadata description of video content, to make it searchable at scale, and to simplify the workflow of video curators, editors and creators.
Magasin Général

Magasin

General

offers a writing

assistance

tool for journalists, writers, and columnists. The user

retains

control of the content, personalized by artificial intelligence according to their references and writing style.
Organisation Bleue

Organization

Bleue

is working towards creating a new scientific culture in the service of positive environmental awareness. By using technological innovations, they create unique content and make it accessible to all, with the aim of inspiring collective

consciousness

to preserve

our

planet.
Studios

Solipsist

Solipsist Studios enables augmenting physical spaces with mixed reality content that can be shared by both on-site and remote participants. Through

their

platform, companies and creators can harness the power of spatial storytelling to engage with their audience more effectively.
Passkey

to Content

Passkey to Content is a universal payment gateway designed

mainly for

media. It

facilitates

transactions and micro-transactions between publishers, broadcasters, and non-subscribing consumers to

purchase

media content on an

a la carte

basis, without subscription and with optional advertising interruption.
Finally, we would like to acknowledge the members of the selection committee who played a significant role in the process: 
Annie Gérin – Dean of the Faculty of Fine Arts, Concordia University 
Bertrand Nepveu – Founding Partner, Triptyq 
Jeanne Dorelli – Senior Director, Entrepreneurship and Innovation, Zú 
Luc Brousseau – Leader, Ignition Center and Leader Quebec, Retail Industry, KPMG 
Maude Pariseau – Director, Strategic Initiatives, BDC 
Mathieu Deschamps – Partner, Norton Rose Fulbright Canada 
Nima Taghvai – Director, Business Services – Creative Industries Group, National Bank of Canada 
Sophie Couture – Executive Director, Xn Québec
Zú is supported by the Ministry of Economy, Innovation and Energy (MEIE).